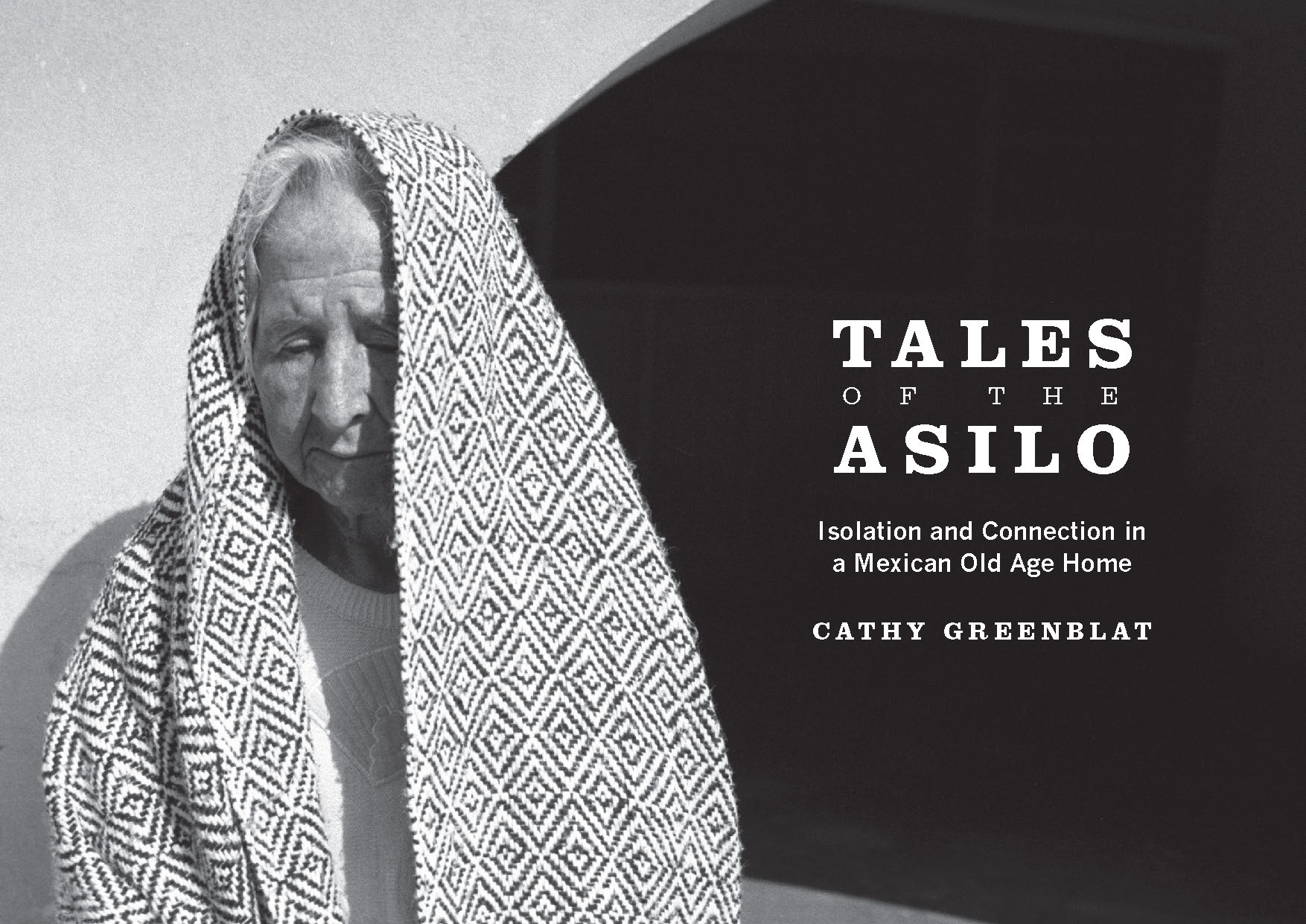 I was never formally trained as a photographer. I was inspired greatly at age 15 by the FAMILY OF MAN exhibit at the Museum of Modern Art in Manhattan. From then on I looked at photographs and photography books and to this date have a large collection of such books.
While at Rutgers I took a workshop in Rochester of a few days duration with Howard Becker, which gave me insights in how to photograph. While my children were in school in Princeton, NJ I took a one night a week course on printing and developing from a retired photojournalist, Mike Q and one or two weekend workshops in Manhattan at the International Center of Photography. One was with the French photographer Lucien Clerque who told me about the annual Rencontres de la Photographie festival in Arles. Years later I began attending it annually and I still do so.
When my first breast cancer in 1998 inspired me to take an early retirement 3 years later it was to live two dreams: to live in France for at least 5 years and to do documentary photography seriously, combining it with my writing. My husband endorsed both aims instantly. Lucky me!!! We stayed in Nice for 11 years.
Before leaving the USA at the end of 2001, I discovered that MaryEllen Mark was offering a Master Class in Oaxaca, Mexico through ICP. I applied and was accepted. She assigned each of the 12 of us to a site for a week of photographing. My assignment was to the Asilo of Santa Rosa, a public old age home. I didn't want to go, but I was afraid to tell her. Thinking I would try it for a day and then ask for a new assignment, I went and was surprised that the challenge was interesting. I wanted mostly to increase my confidence and I…thought a difficult task would help more than an easy one… if I succeeded.
It was a wonderful experience. Mary Ellen was enthusiastic about the work I produced. I felt I needed to do more, and that November, over Thanksgiving break, I returned with a Mexican graduate student, Maria Islas. I needed Maria to help me by doing more intense interviewing of the people who featured in my images. We used the occasion to give a 100th birthday party for Felicitas, and MAP International gave me about $500 worth of medications to deliver as a present to the administrators and residents who allowed me into their lives.
Maria subsequently typed all the interview notes and translated them into English for me. In the next year or two I wrote three drafts of a book, and almost had a contract from a good press. But I had meanwhile discovered Silverado Senior Living and I was preparing the photos for preliminary exhibits for Alive with Alzheimer's. I had exhibits of the photos from both places: in Princeton NJ, in Amarillo, Texas, and in Villefranche, France.
This was my first big serious photo/writing project. I have intended for several years to complete the manuscript, shortening it from its current 105 pages.
When coupled with photos from Alive with Alzheimer's, the second segment was titled Remembered but Forgetting…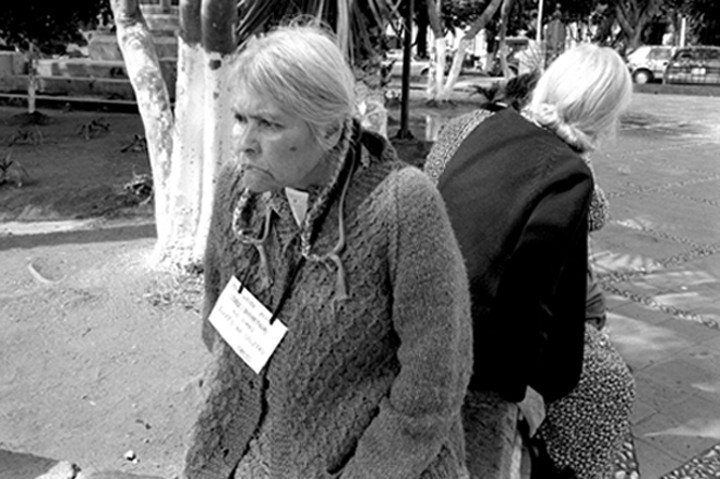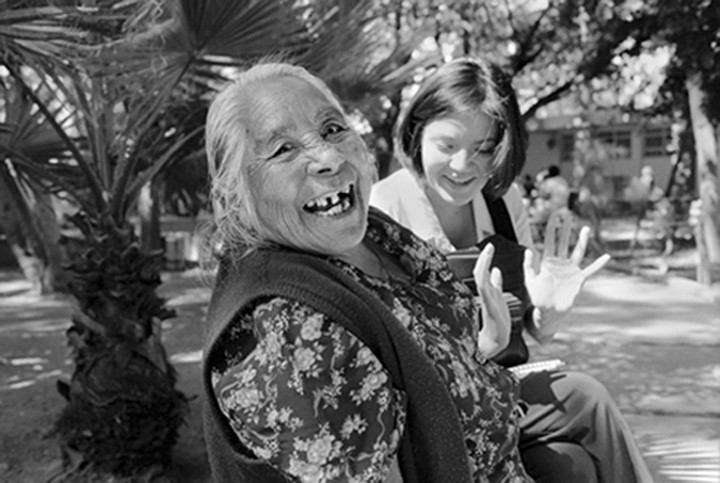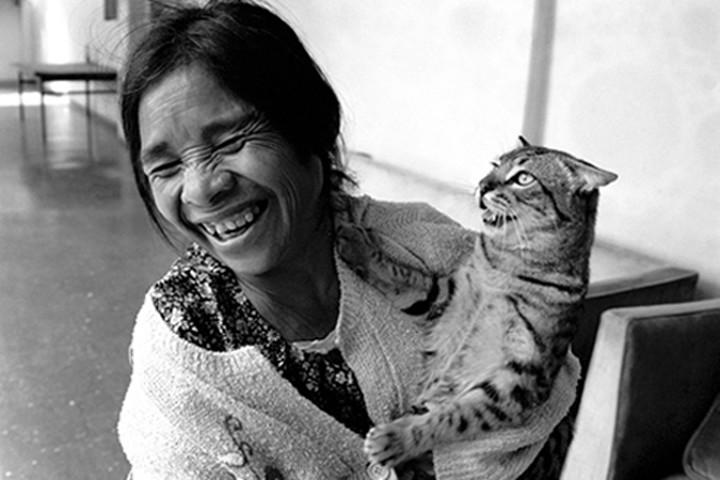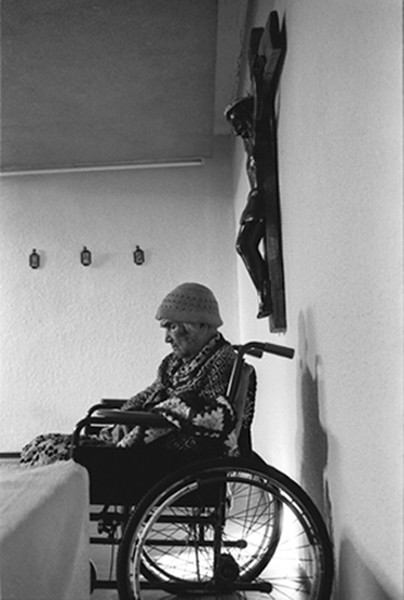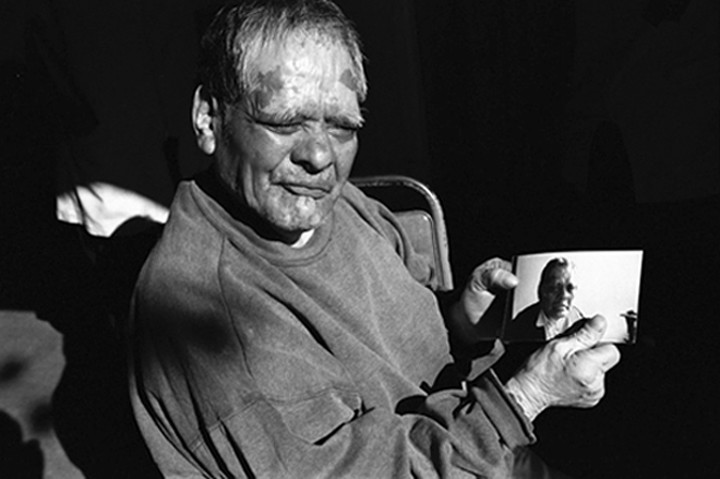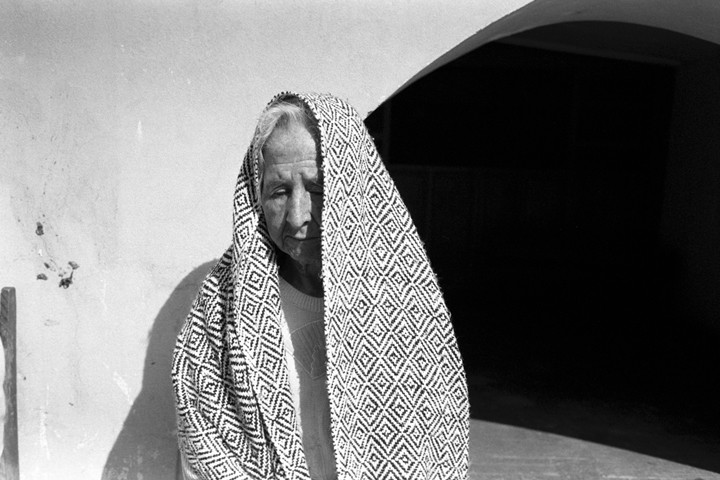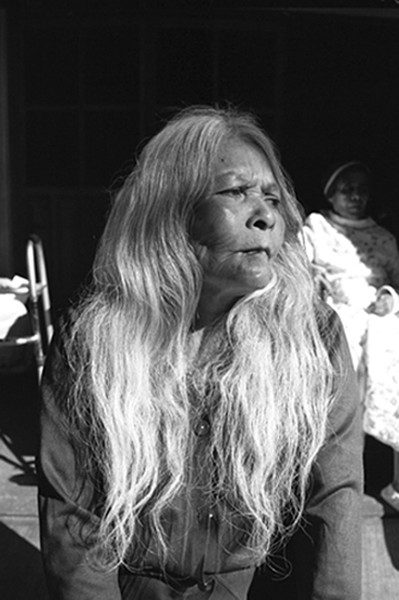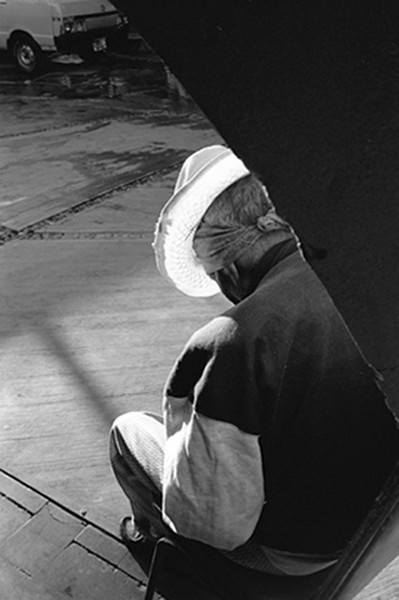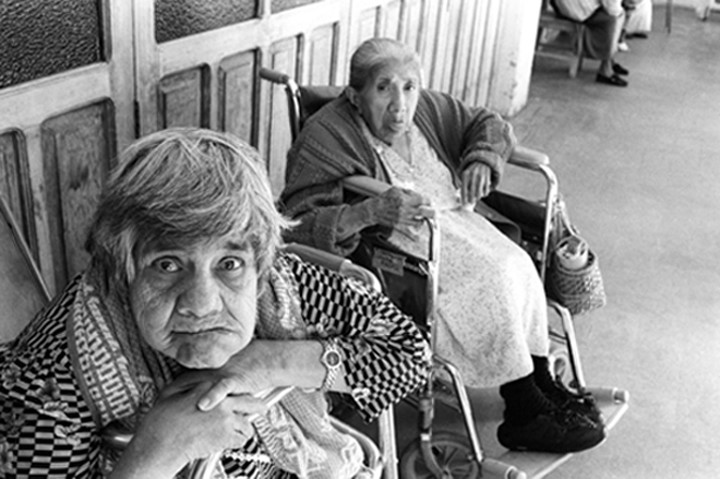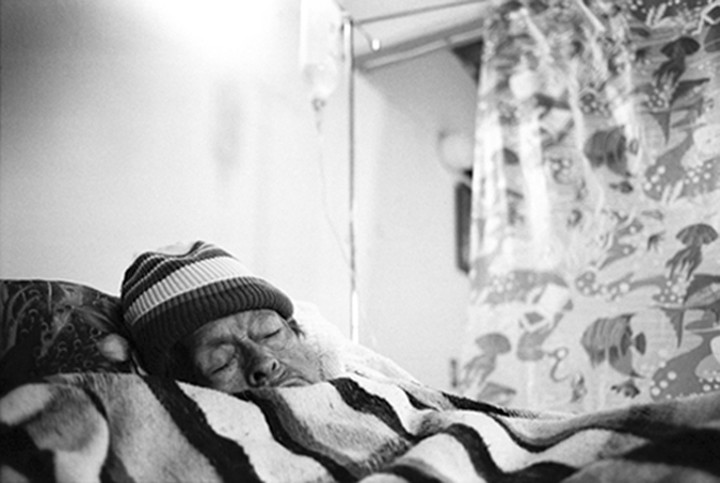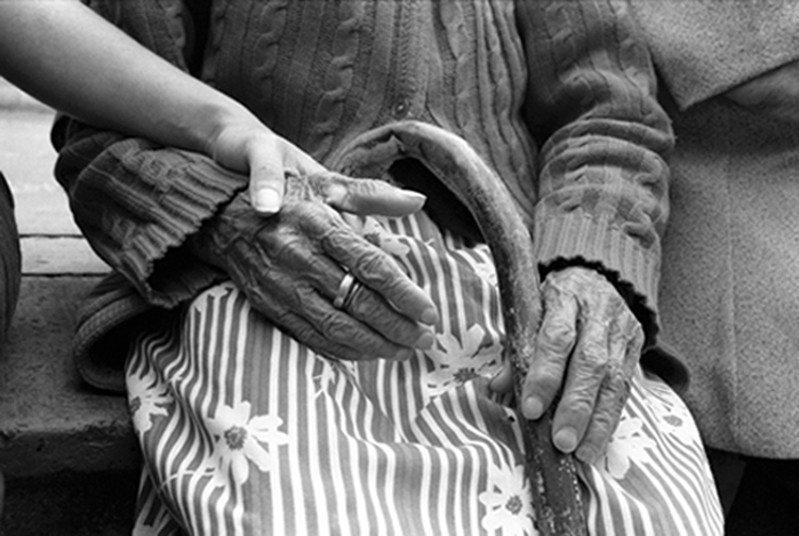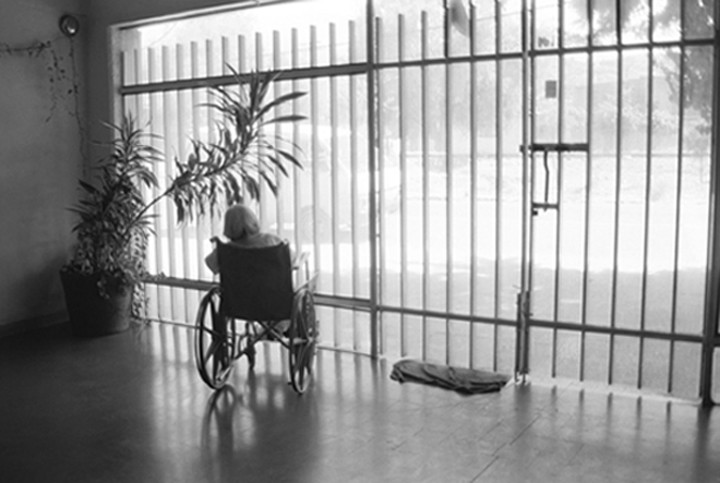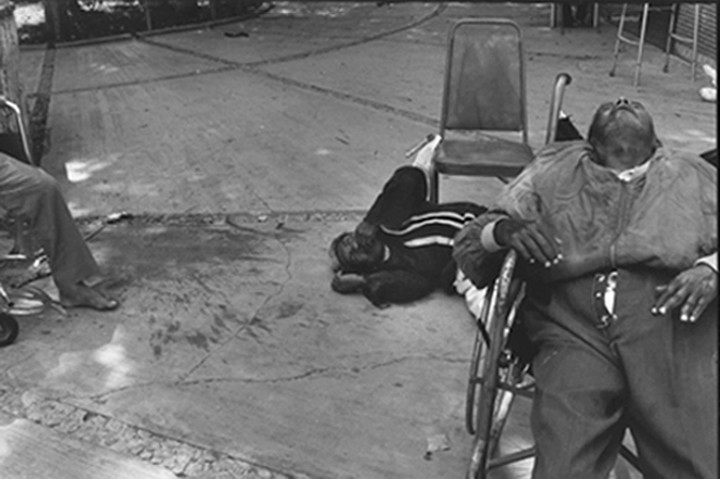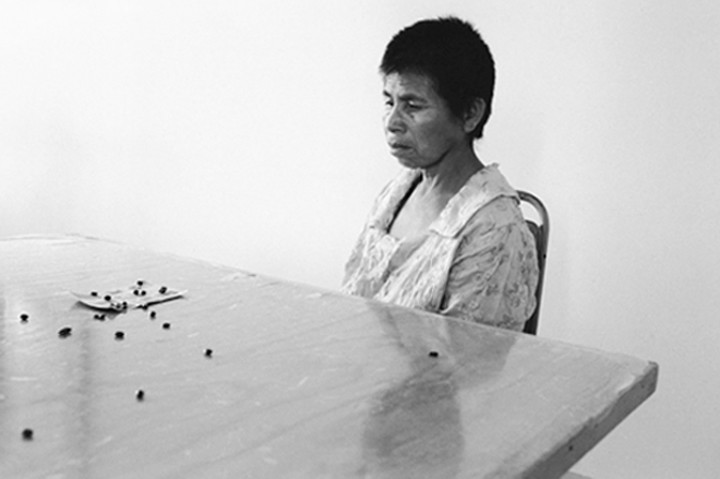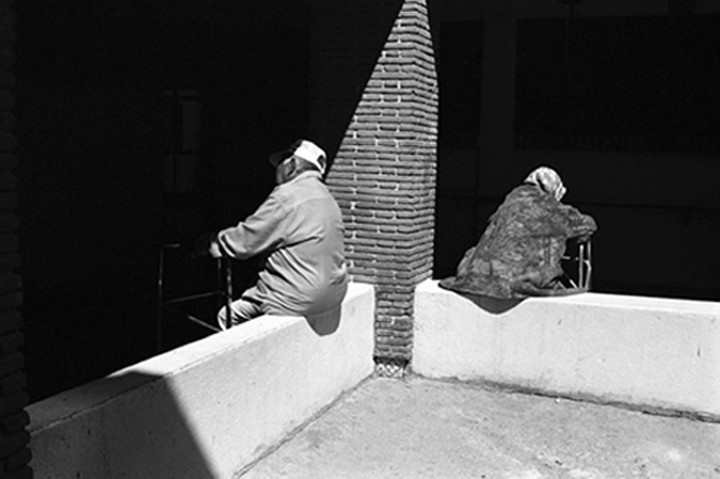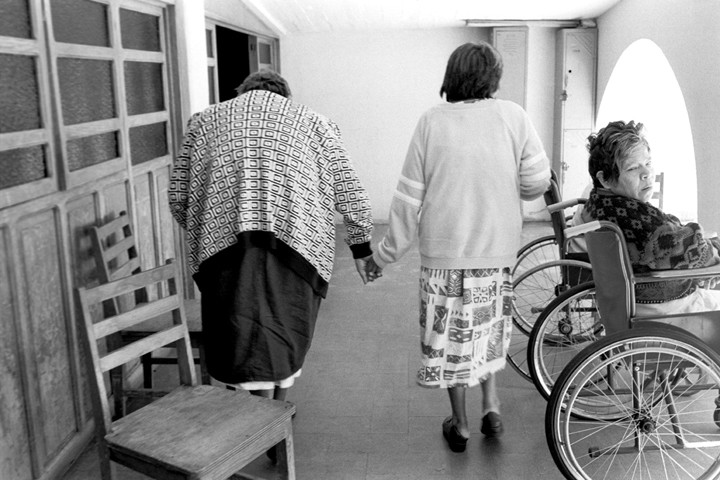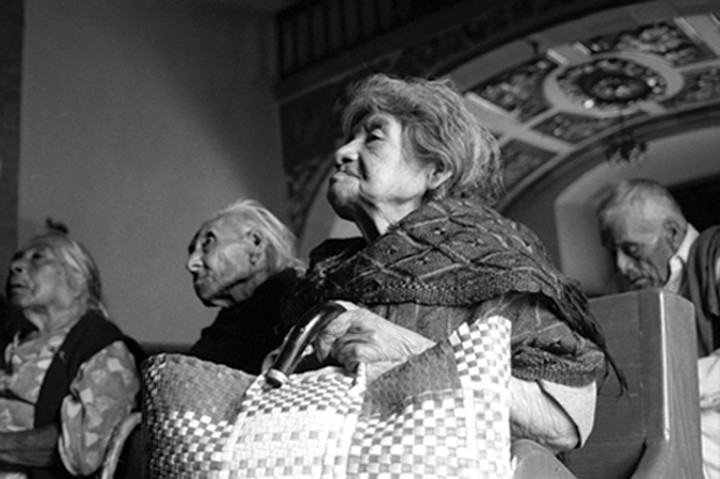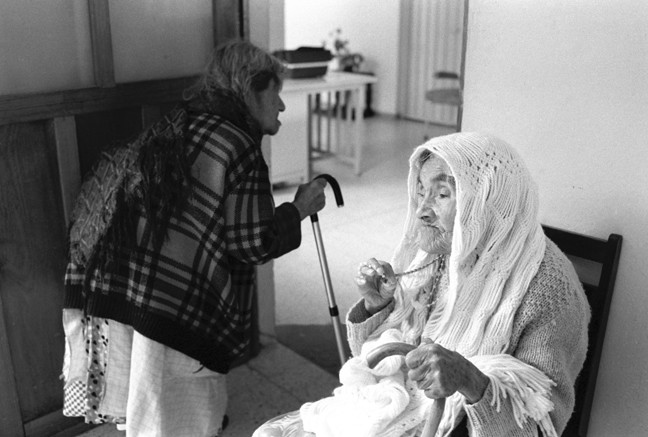 FORGOTTEN BUT REMEMBERING: THEY ARE NOT KLEENEX
"I'm thinking that these old people are a lot like Kleenex. When it's used up, we throw it away."
A staff member at the Asilo
Mexican society has a strong tradition of caring for the aged in a family context, but not all her citizens benefit from it. The residents of the Asilo Municipal de Ancianos de Santa Rosa, are in some ways like Kleenex. Some were "thrown away" or walked away from family connections long ago, and were brought to the Asilo by the Red Cross or social services or a church group from miserable living conditions. Others were "thrown away" recently as relatives became unwilling or unable to care for them when they became more ill. Here 72 residents have a bed, regular meals, help with daily living tasks, and medical attention. There are scarce resources to provide for more than the most basic needs. Thus there is little activity, little stimulation, little to differentiate one day from the next, except one's own illness or the death of another. The sense of illness and isolation is pervasive.
Under one roof we find great biographical diversity. There is 100 year old Felicitas, who is blind and came to live at the Asilo more than 20 years ago when it was run by nuns. Felicitas remains active, physically and mentally, and deeply religious. Alicia, who is both blind and physically handicapped, came to the Asilo with her mother, who subsequently died. Martin was homeless and alcoholic for more than 40 years. Once a week he cut himself with a bottle; he regularly was able to obtain a meal and overnight accommodation from the Red Cross but he became disfigured. Rosa Maria had a well-to-do foreign husband with whom she traveled to Europe. When she became widowed she went to live with a wealthy nephew, who "dropped her" into the Asilo when she began to develop Alzheimer's disease. Social services brought Manolo, mentally retarded since birth, to the Asilo when his elderly parents died; they also brought Saul, blind and confused from medications, Juan Carlos who lost a leg to a train while on a drunken spree, Maria M who begged nightly in the town square and slept daily in a cardboard home with an old dog, and Victorina, who wouldn't take her anti-psychotic medications at home without supervision. Elvira, Margarita, Cata and others were transferred from the local psychiatric hospital when they turned 60, to make places for younger patients. Cata speaks only Zapotec; she is doubly isolated in a world of incoherent and incomprehensible chatter despite her desire to relate to others.
Kleenex may be forgotten, but Kleenex do not have memories, words, hugs, tears, and laughter. These people do. The attentions of the small but caring staff are of great importance, as the residents have little connection to the outside world. Francesca's son visits occasionally. Catita's son sends magazines and small gifts. Groups of church women visit a few times a week spending an hour chatting and giving out cookies. An occasional other visitor provides a new audience for stories other residents have heard too often.
While there is no sense of community here and not much interaction between residents, a more careful look reveals small acts of kindness, a few groups of friends, and a married couple. Manuela, feisty and strong-willed, arrived from an abusive situation 18 years ago. Antonio was brought in debilitated from alcoholism 8 years later and Manuela took care of him. When he recuperated he married her "to protect her." Now he claims she is the only reason he remains there.
My conversations and interviews reveal that the residents stay "alive" through nurturing private memories of prior connections. They are eager to share tales of life, love, troubles, friendship, food, with anyone who will listen. Religion also supplies connective tissue. It is a central component of identity for some residents and its practice takes many forms. The occasional event, such as Manuela and Antonio's wedding, annual parties for holidays such as Valentine's Day and Christmas, and the celebration of Feliticas' 100th birthday bring a welcome change of pace for a few hours. The greatest pleasure seems to come with the infrequent opportunity provided only to the "healthier" residents once every few weeks: an excursion. For a few hours those who go are again in the larger world, but inevitably they return to the Asilo, which they know is their last home.

1. The entrance and exit
2. Mari M, and Felicitas outside the Director's office
3. Alicia, no longer able to eat in the dining room
4. Saul in the garden
5. Martin and his walker
6. Martin and his photo
7. Martin and Rosa Maria in conflict
8. Natalia
9. The wheelchair is omnipresent
10. Francesca's inflamed foot
11. Juan Carlos and Manolo
12. Manuela and her walker
13. Atonogenes in the garden sun
14. A typical scene in the garden
15. Inez in the verandah shade
16. Man in the infirmary
17. Victorina laments
18. Confused psychiatric patient at loteria game
19. Loteria game difficulties
20. Elvira's spot in the garden
21. Margarita's beautiful hair
22. Braiding Margarita's hair 23. Alone, waiting for loteria
24. Alone together
25. Cata likes my camera
26. Women's dorm room with 14 beds
27. Augustin helping Felicitas to her living area in the dorm
28. A friendly touch
29. Atonogenes' skin cancer examined by Dra. Pateta
30. Francesca's son's visit
31. Manolo's helping hand
32. Hilaria and Cata
33. Victorina and the "tiger"
34. "The visitors fill me with joy. They come to talk with me about the times I spent"
35. Teresita at loteria
36. Inez, the magnet of social life
37. Catita shares her magazines with Inez
38. Inez and Manuela
39. Manuela and her wedding album
40. Manuela "He takes care of me a lot, he loves me a lot, he pampers me a lot."
41. Victorina at the painting of the Virgin de Guadeloupe
42. Bedside prayer
43. Chapel scene
44. Wheelchair in the chapel
45. Felicitas' birthday cake
46. Birthday party album page
47. Helping Maria M from the bus
48. Protecting diabetic Margarita from well-wishers with sweets
49.On the church excursion
50. Returning "home"