END OF LIFE CARE/ PALLIATIVE CARE: Photographs from France, India, and the USA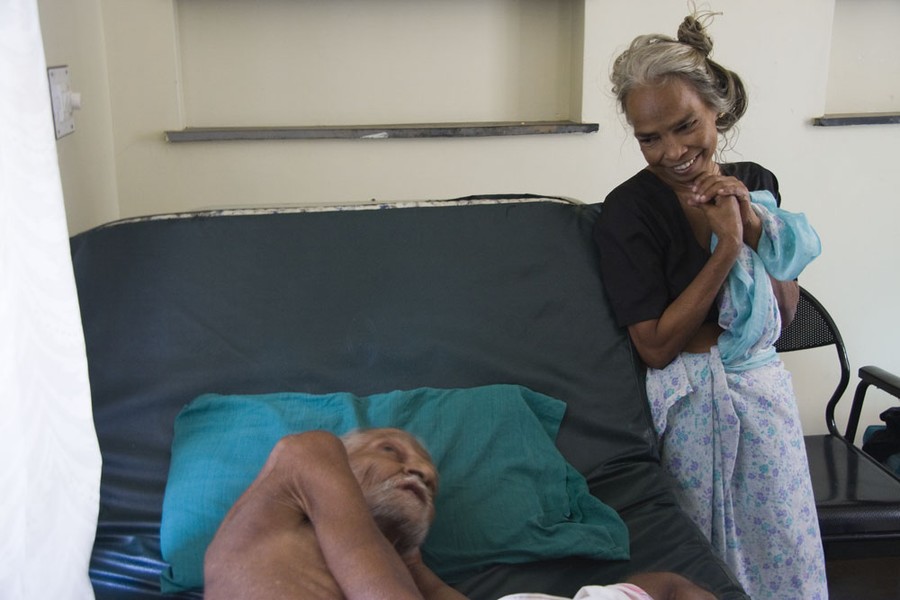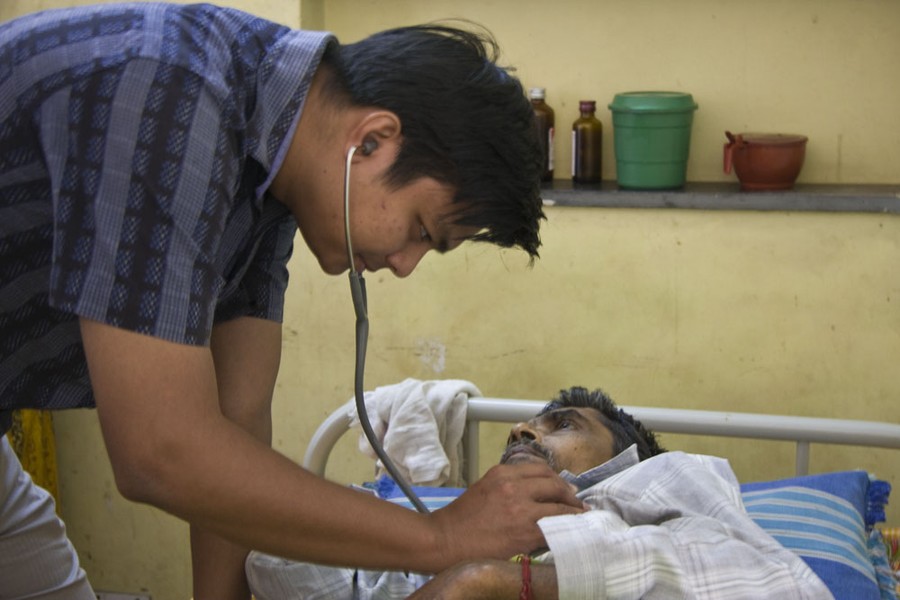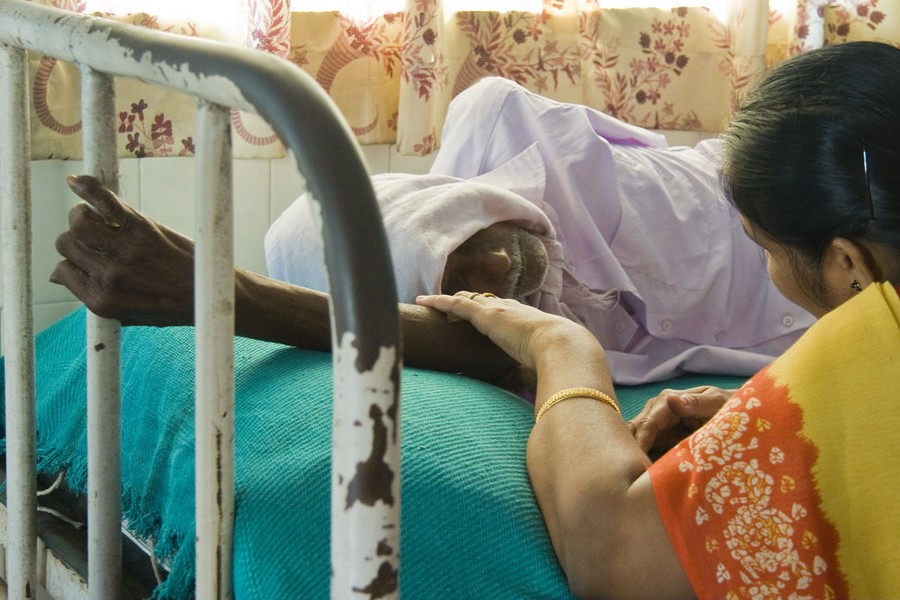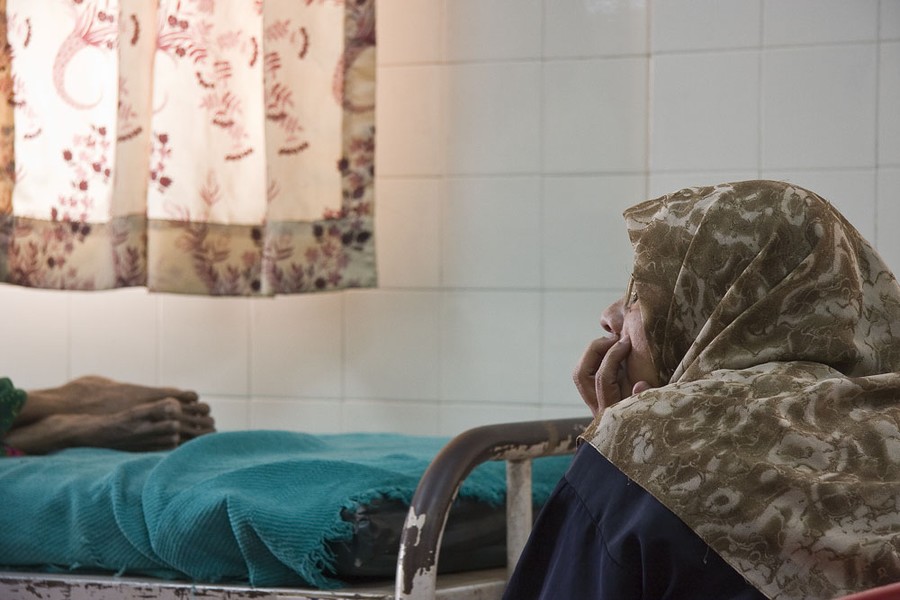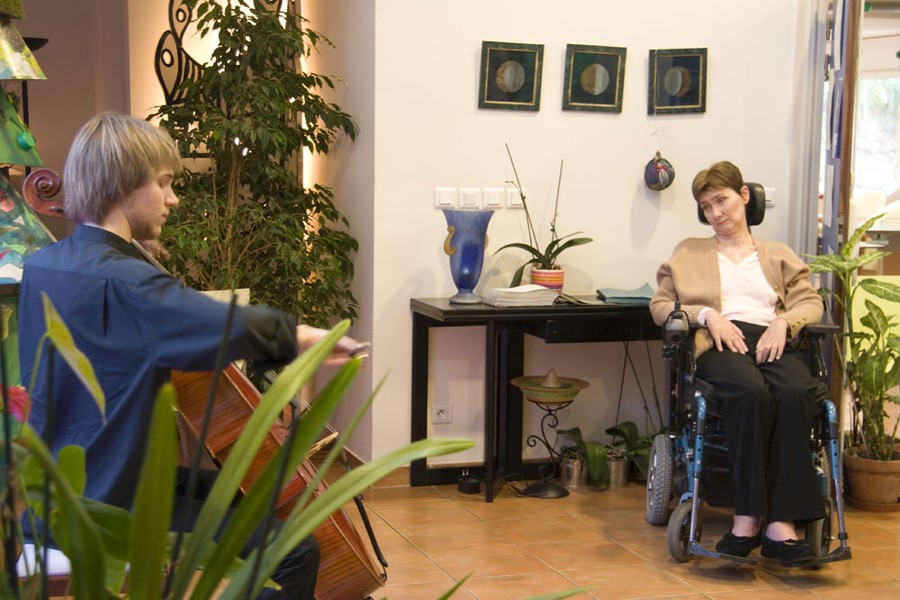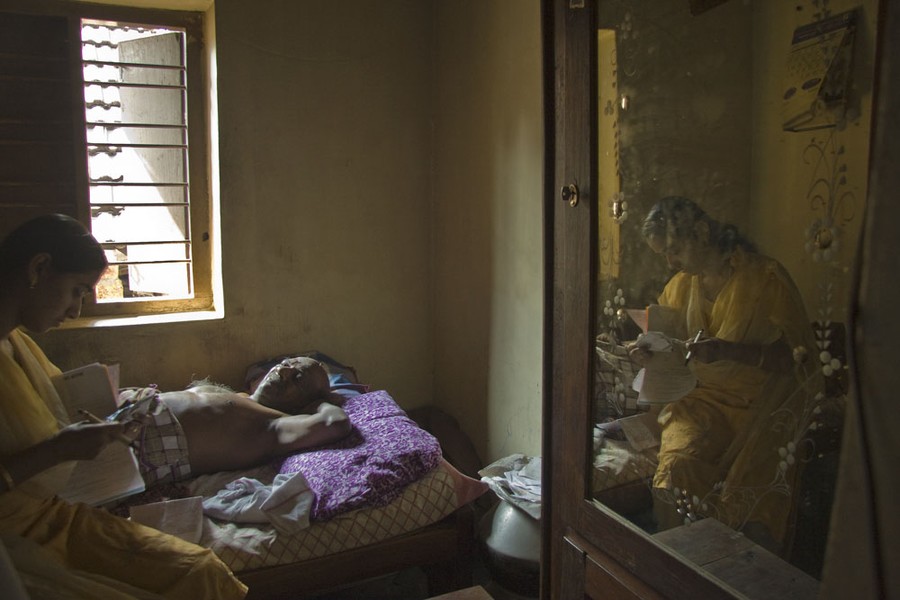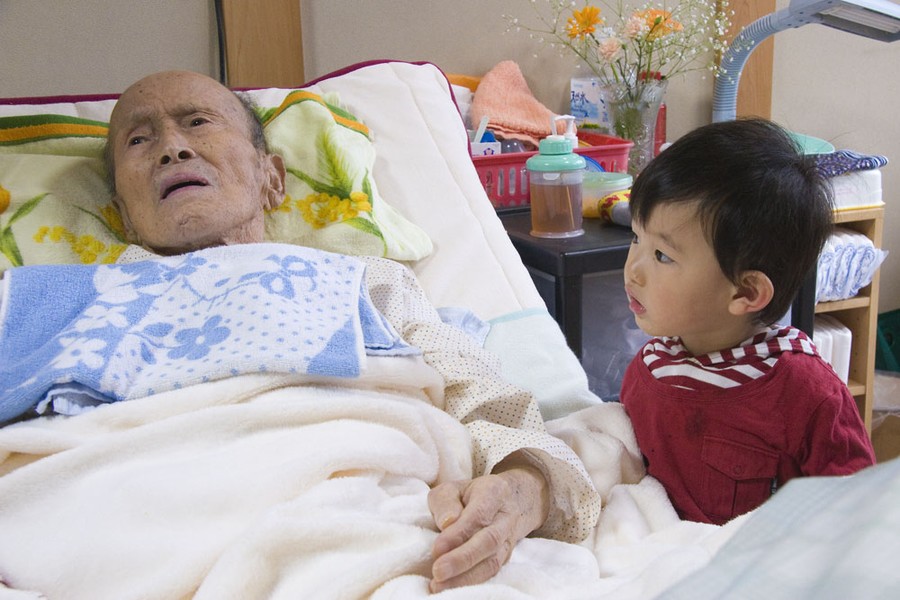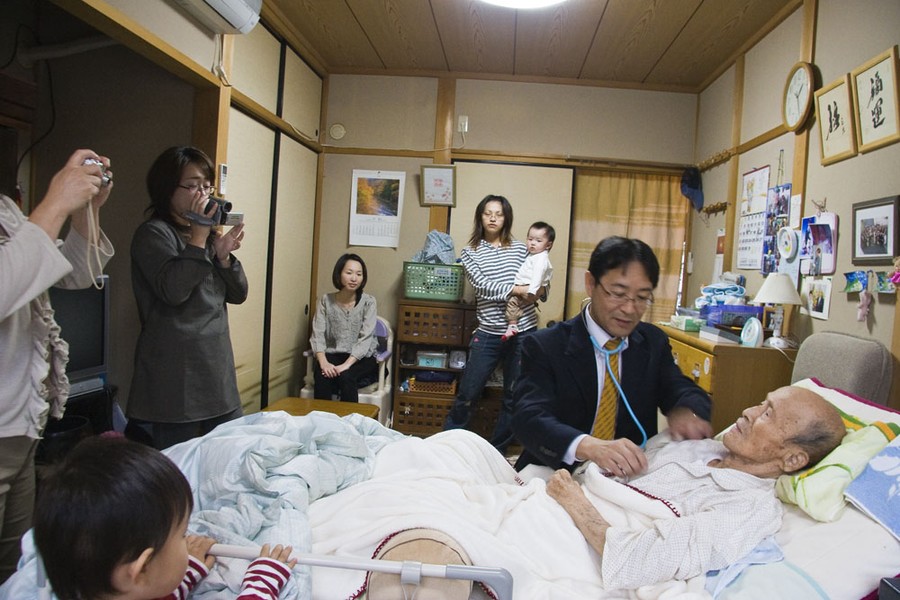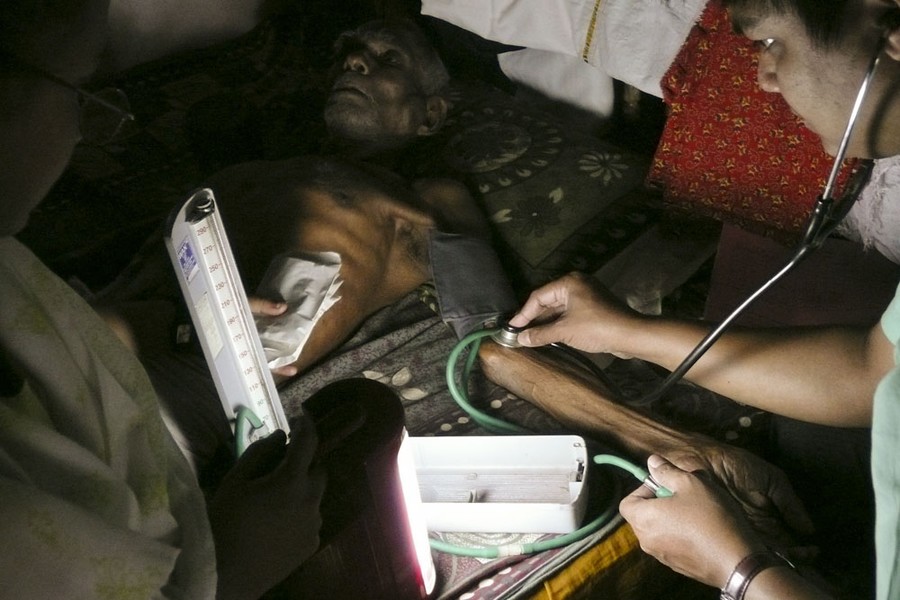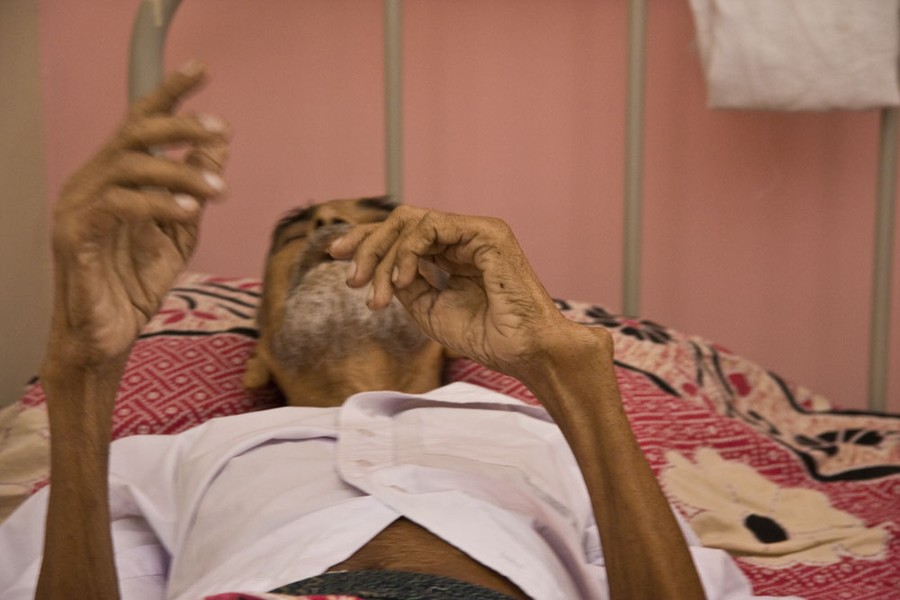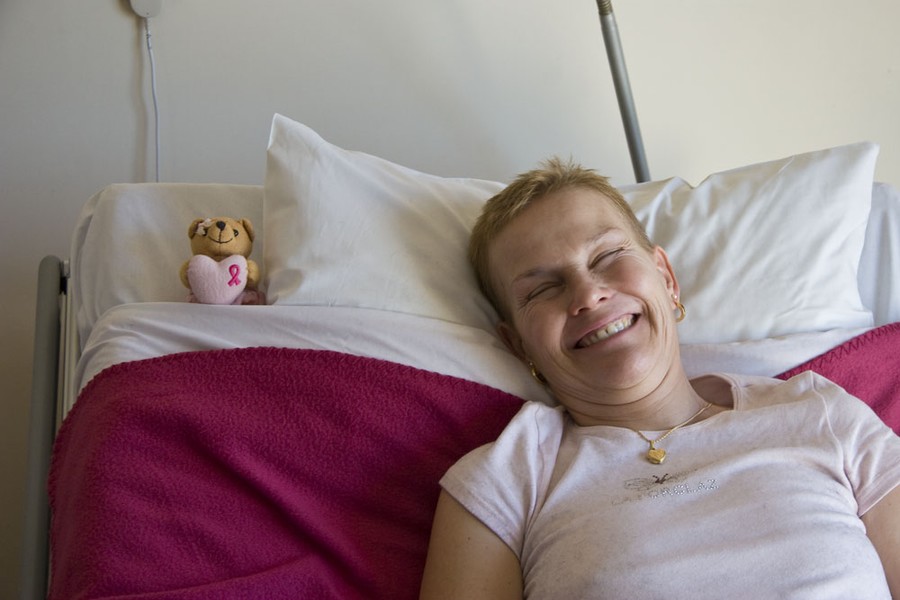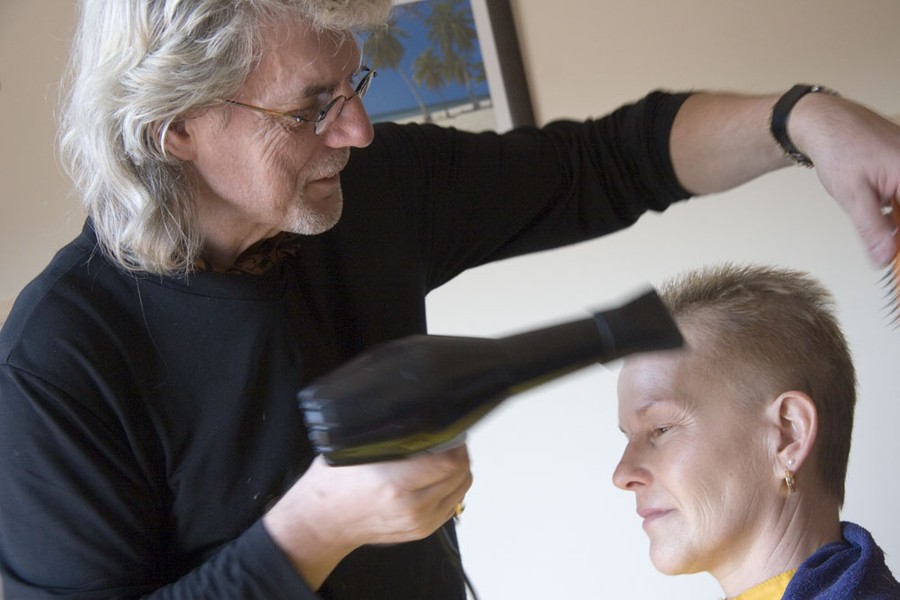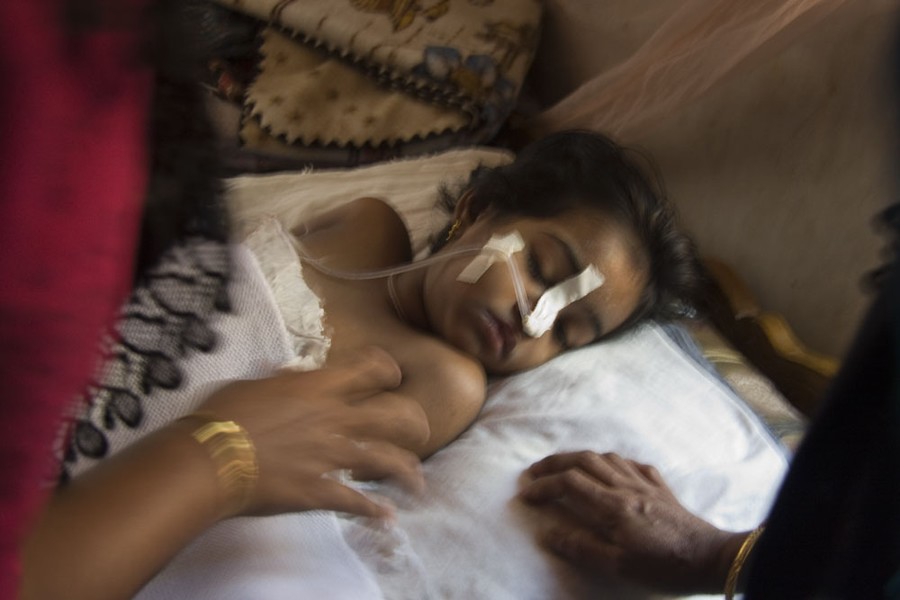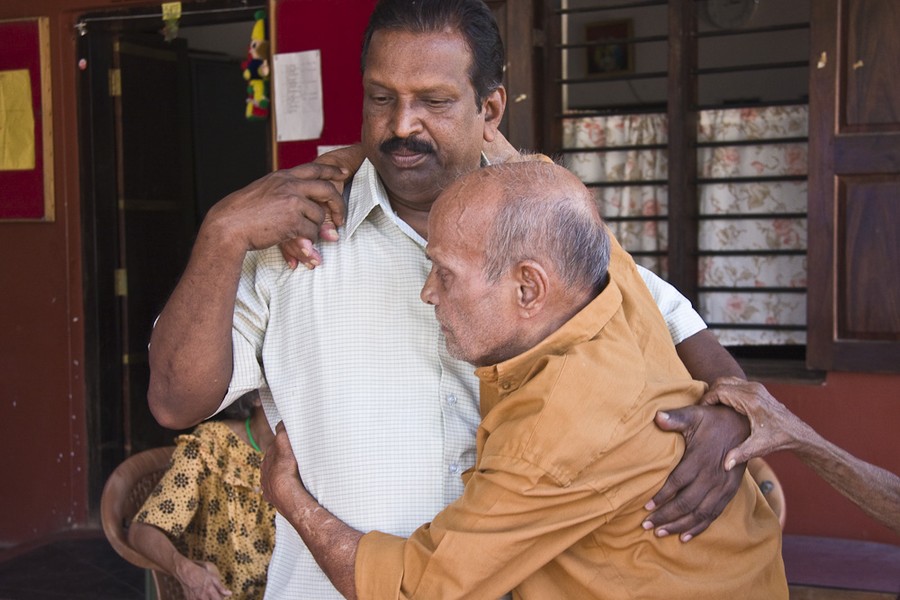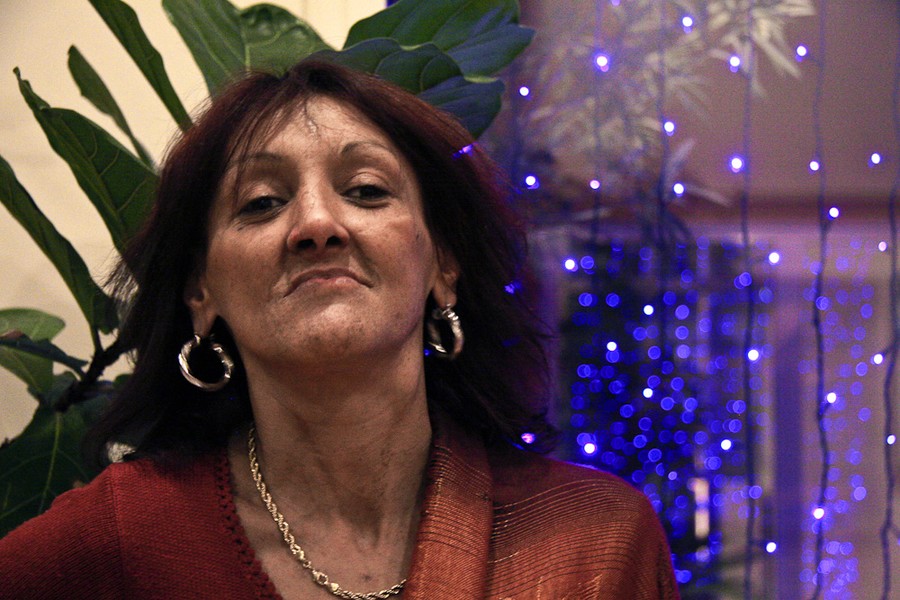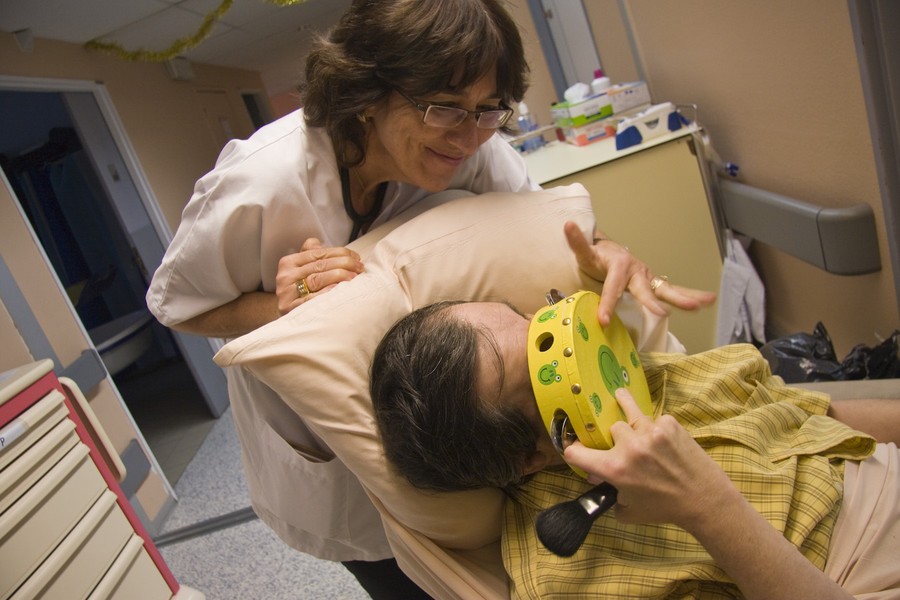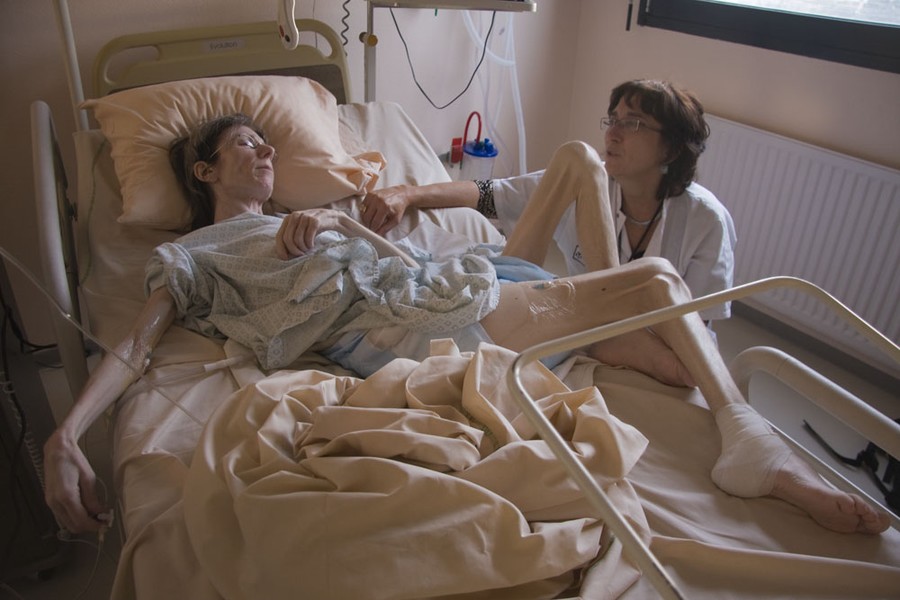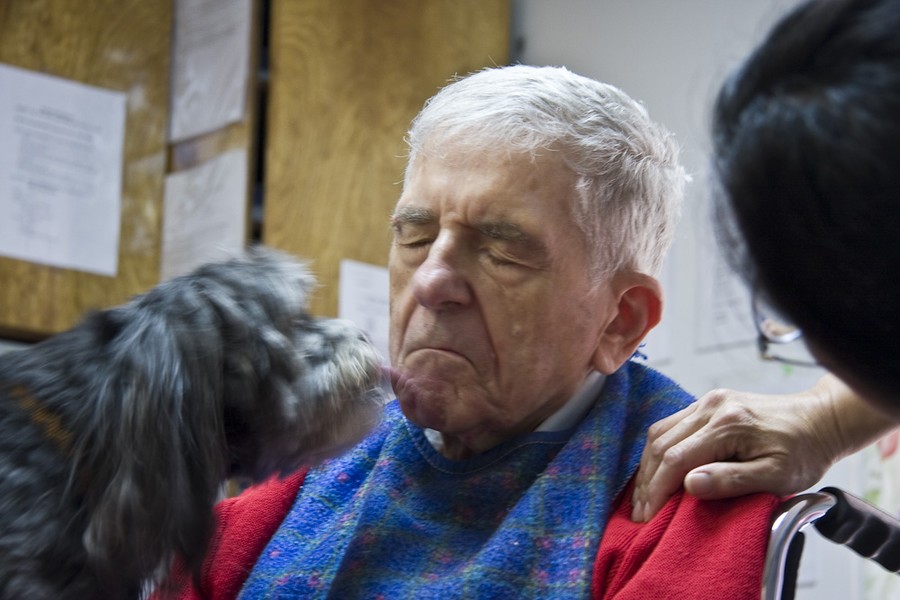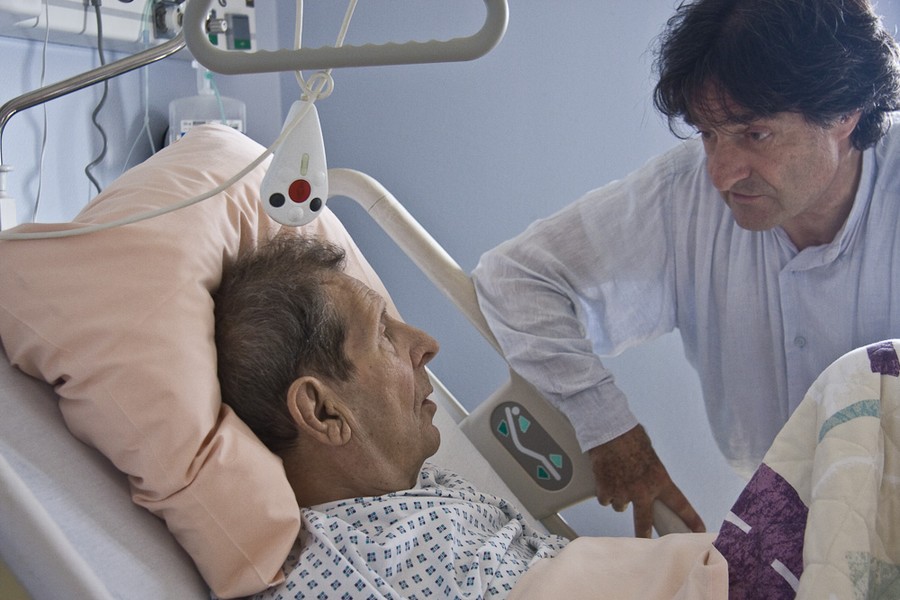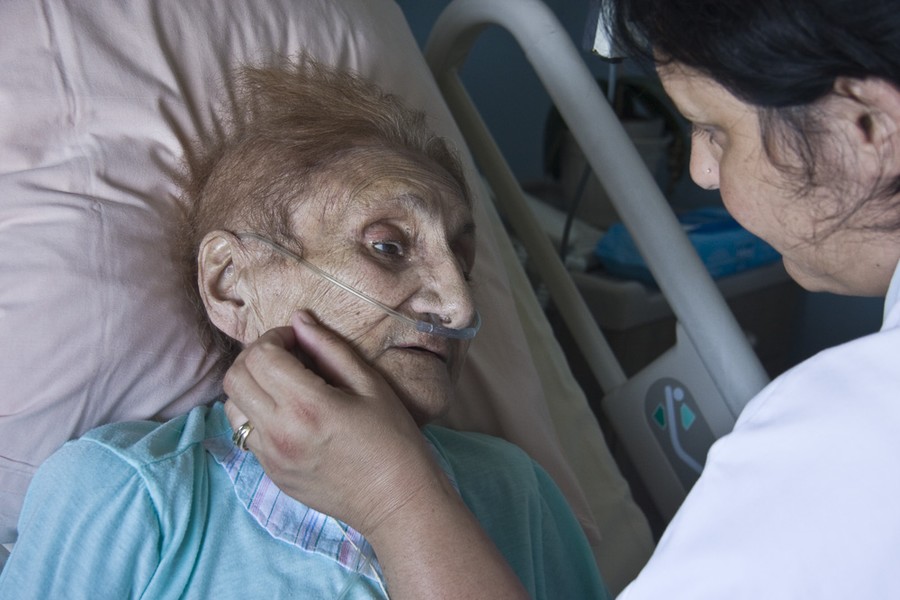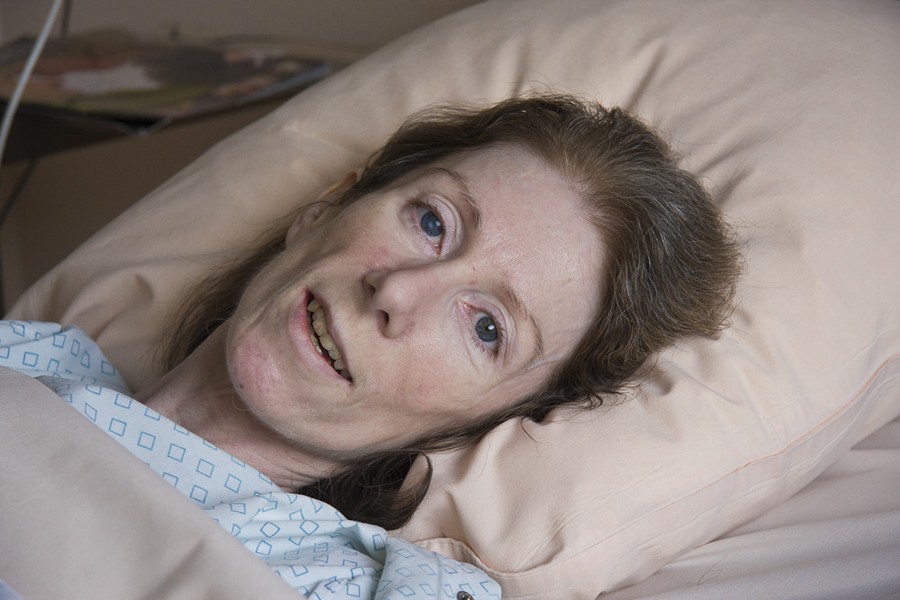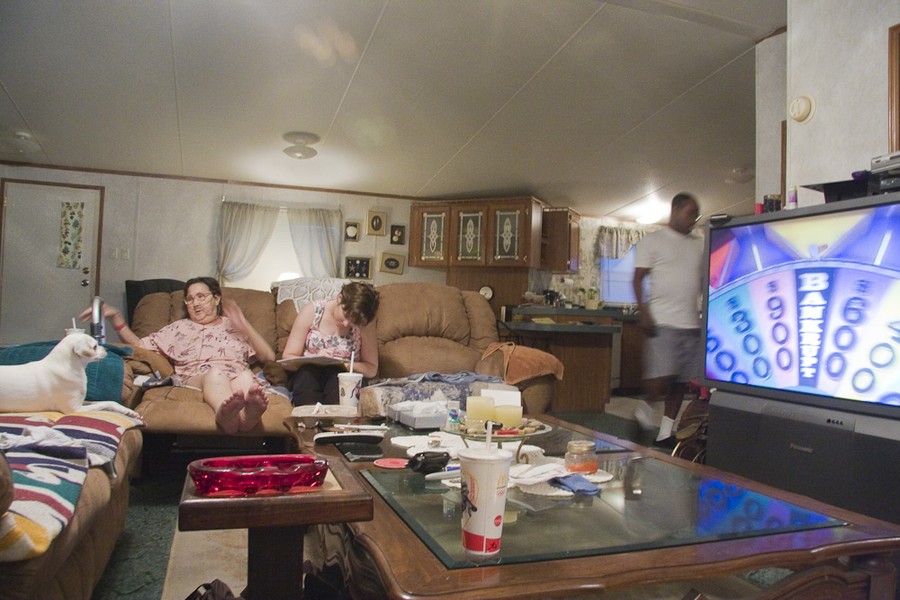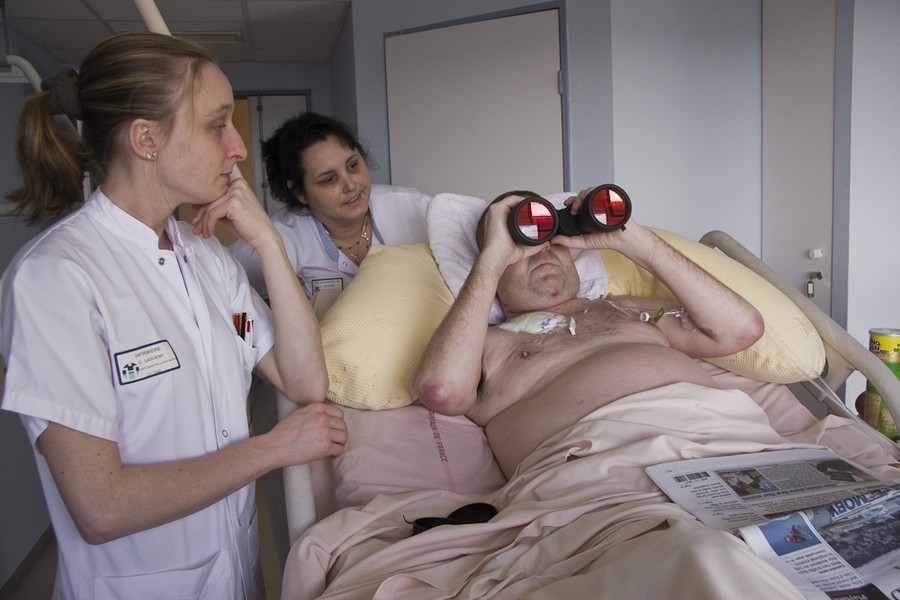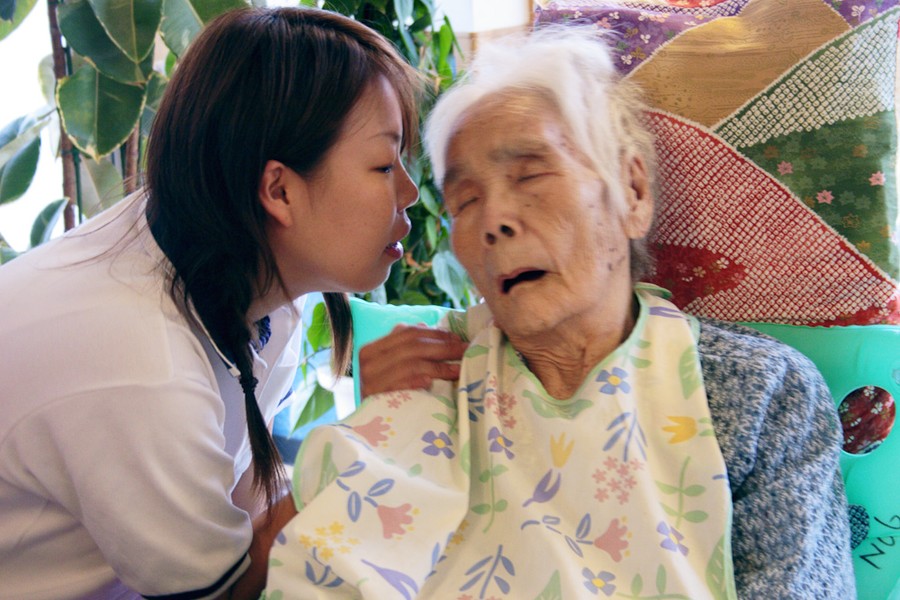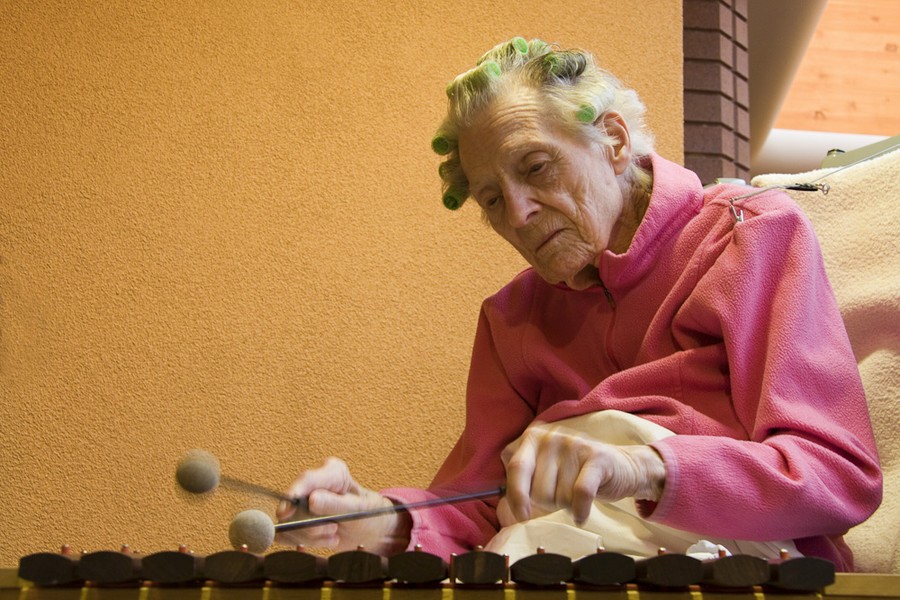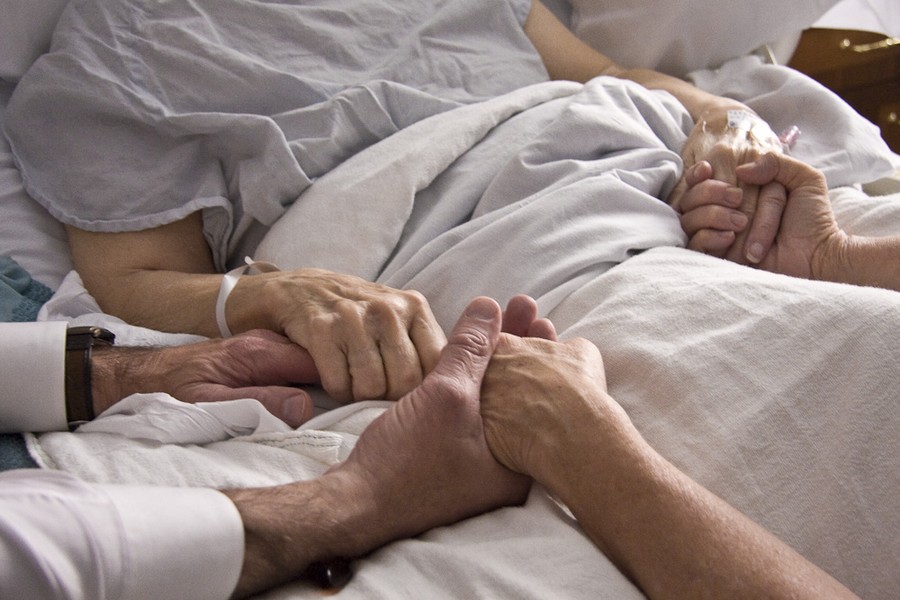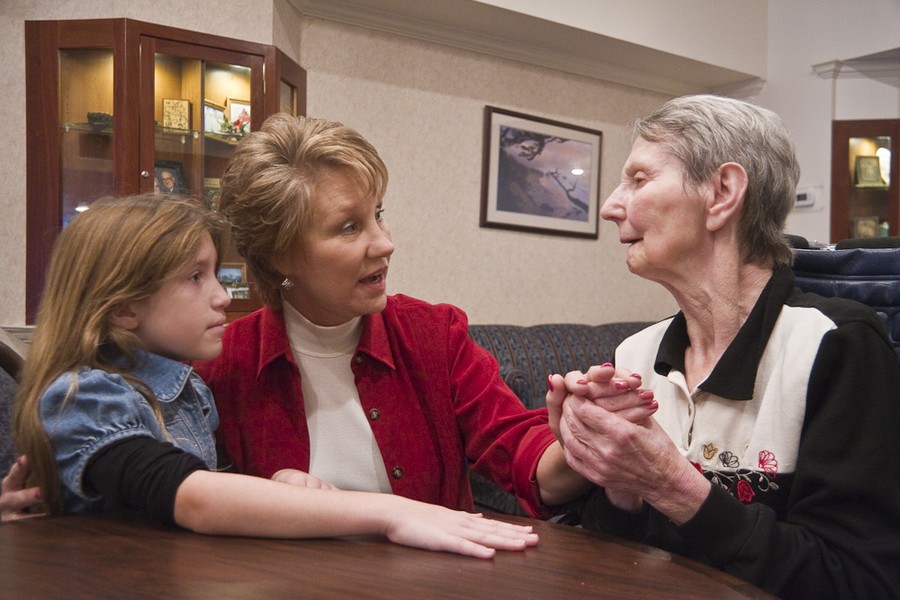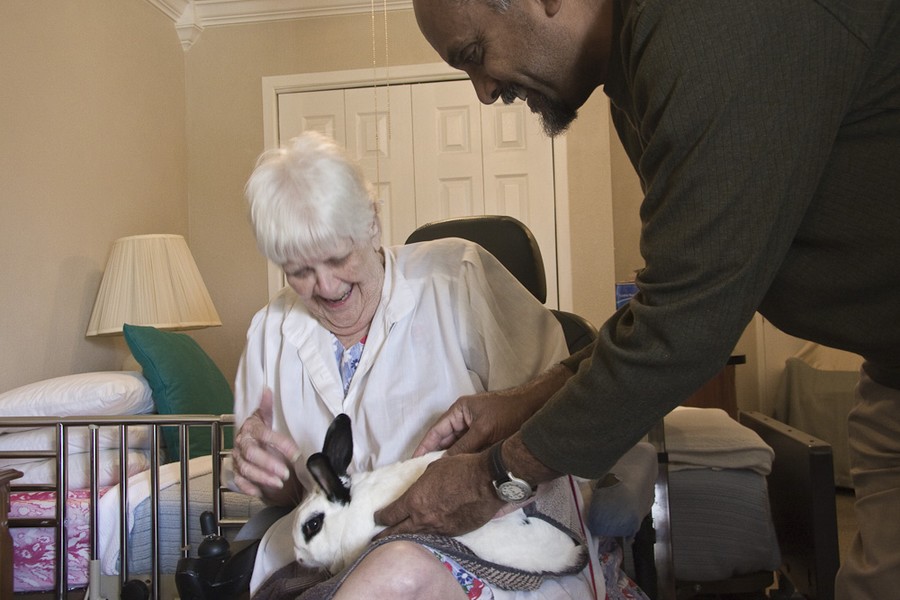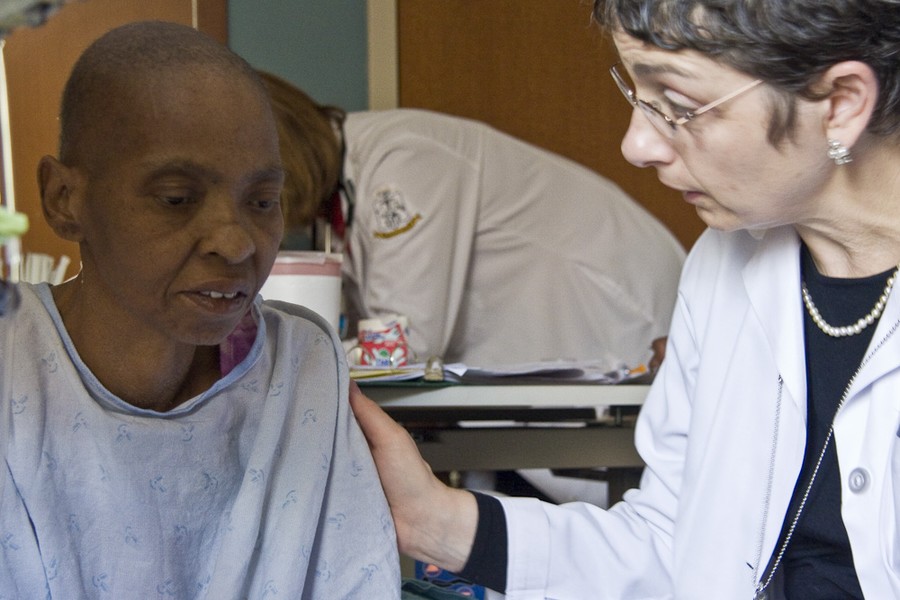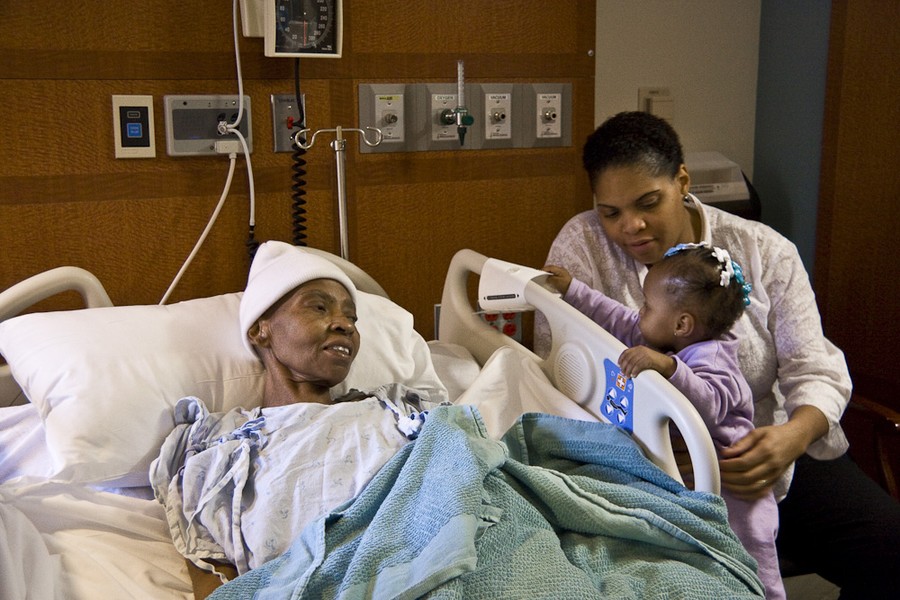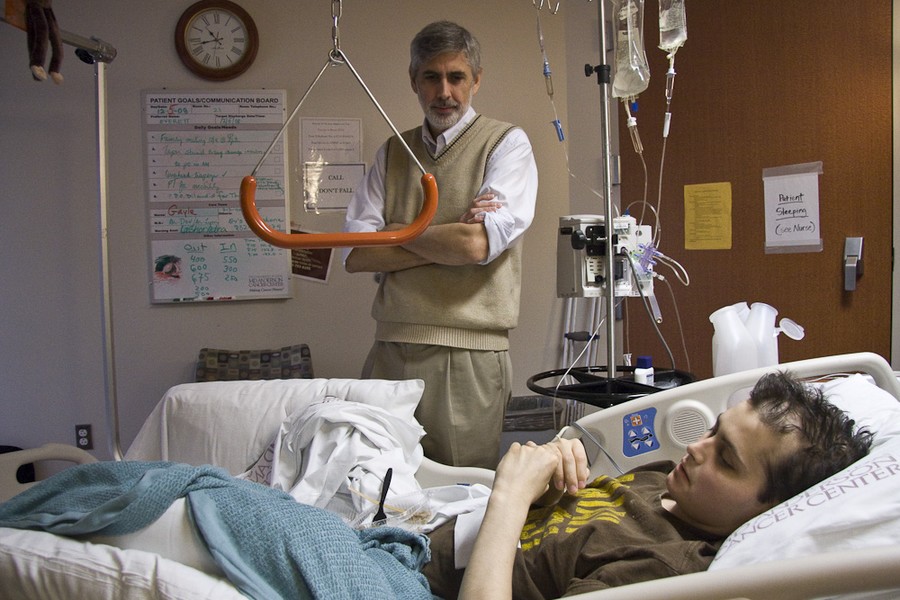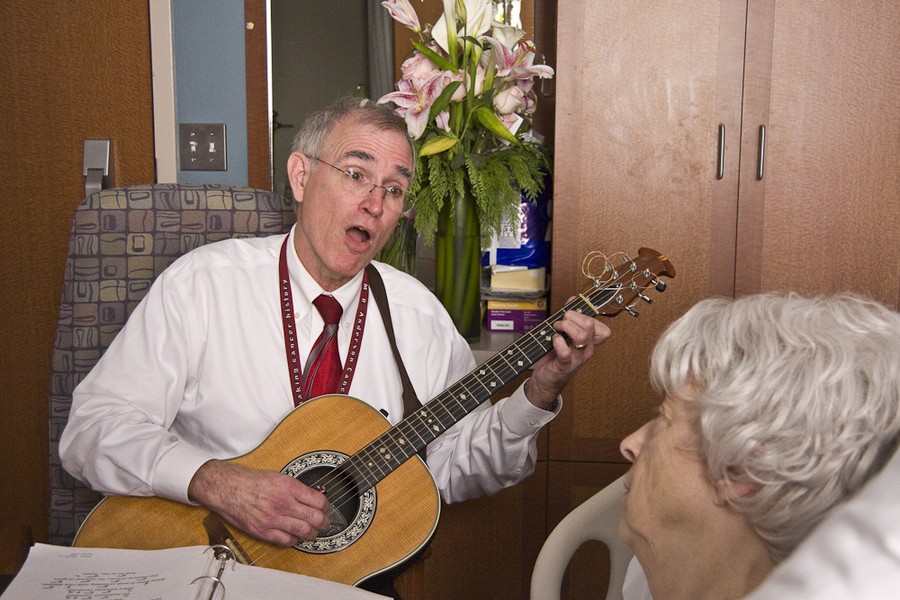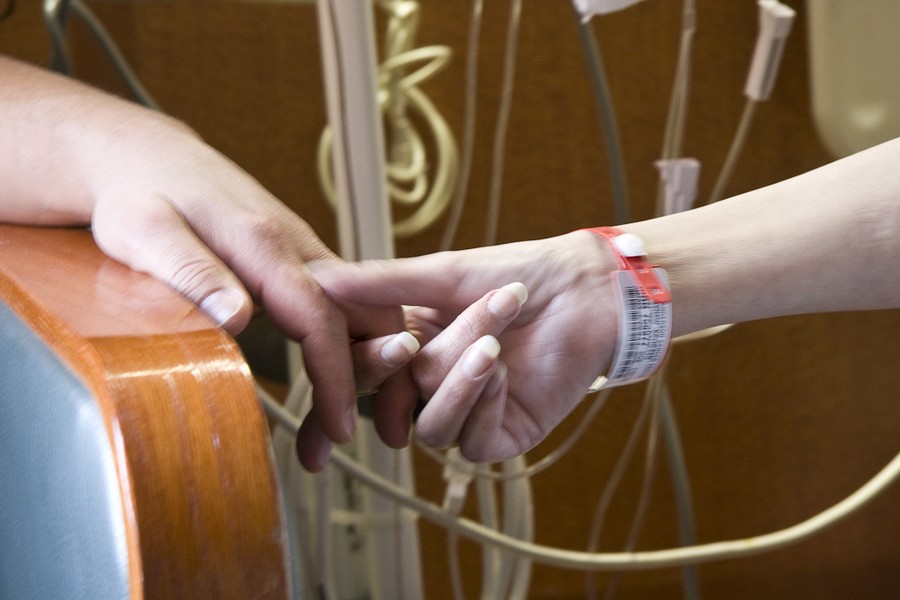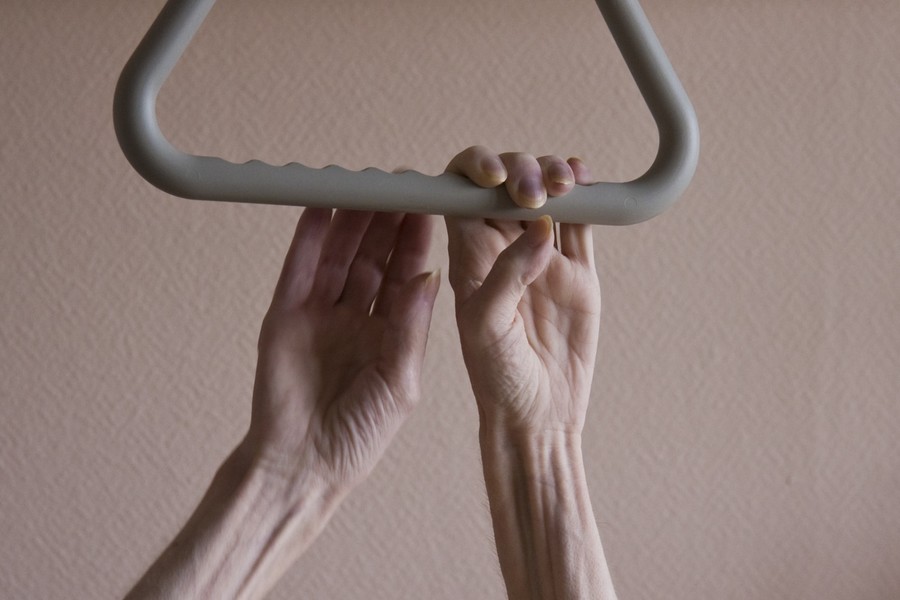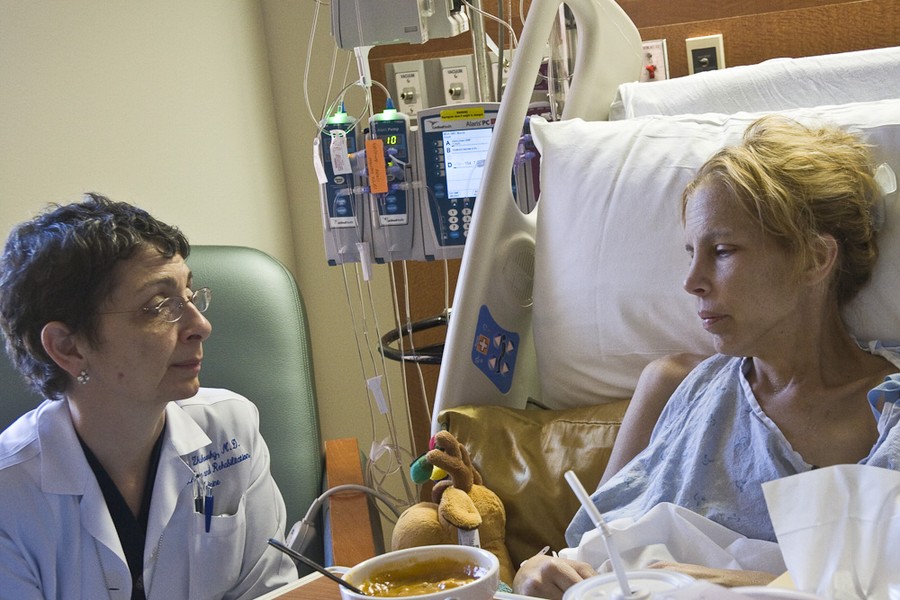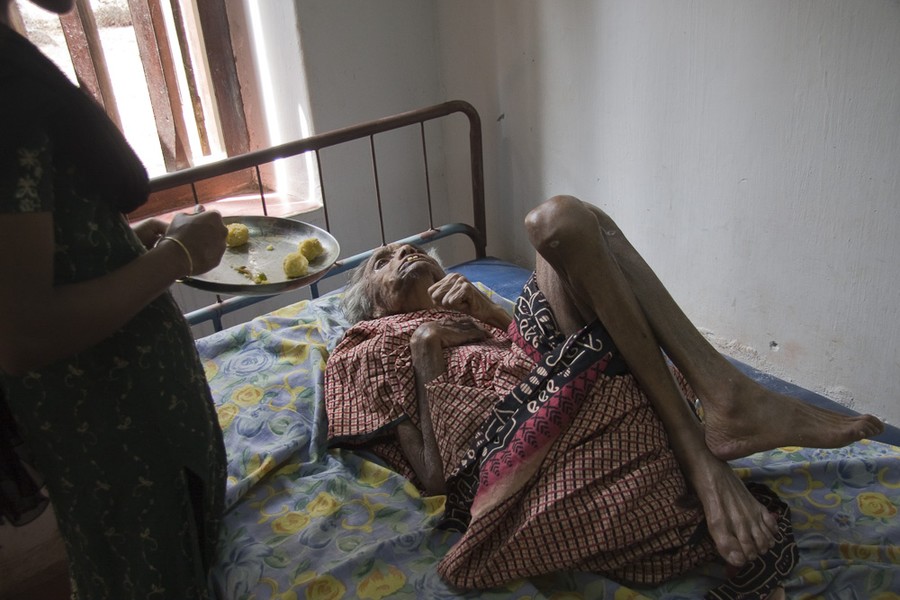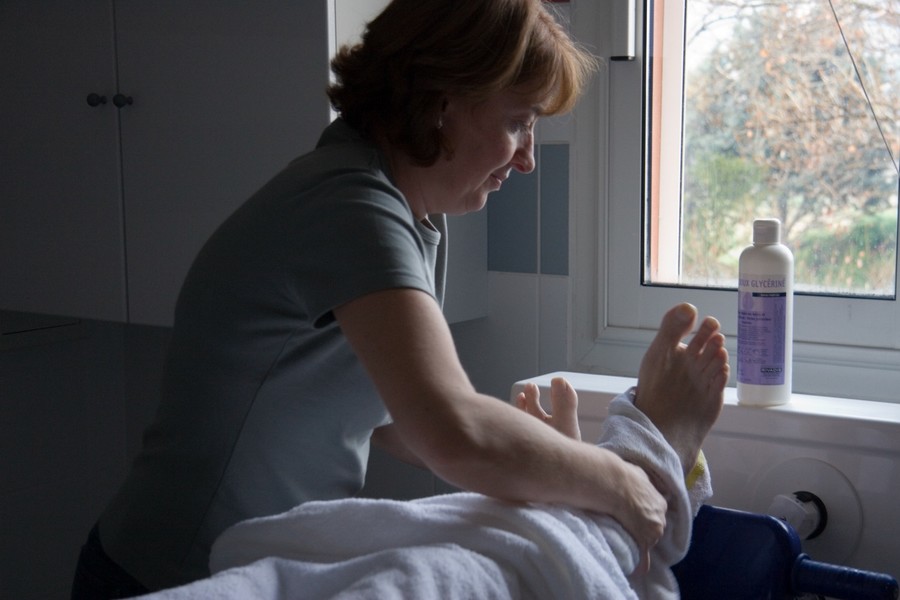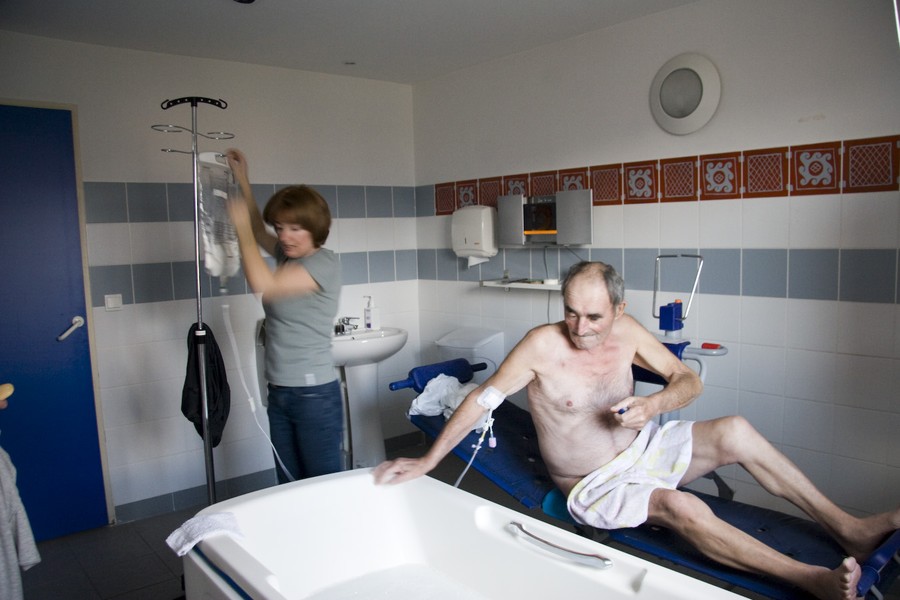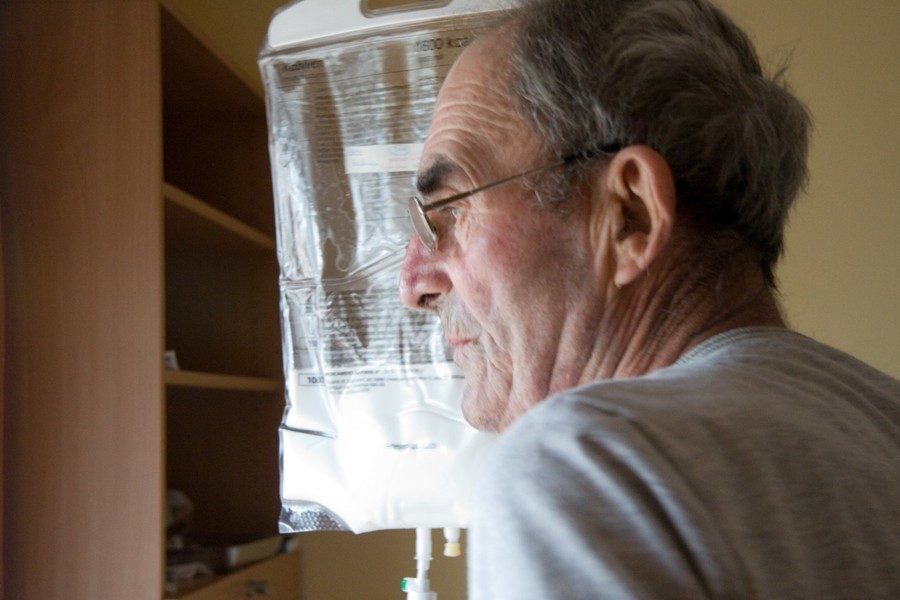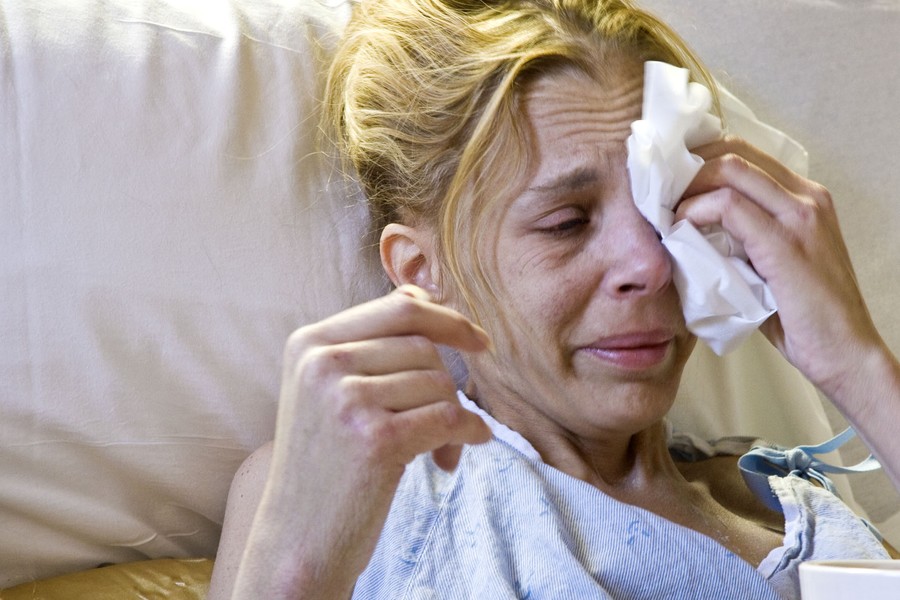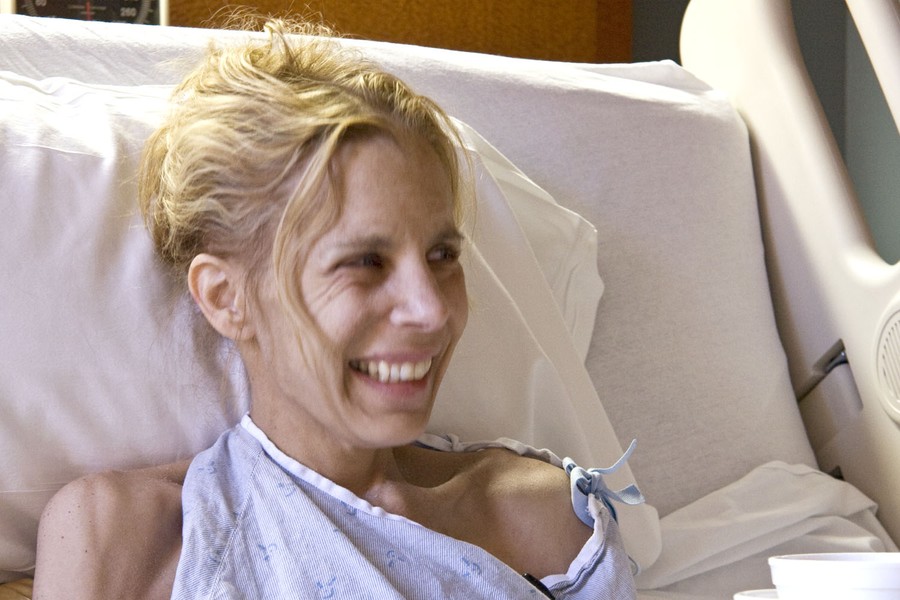 ABOUT THE PROJECT
Important shifts are taking place in various places to put palliative care at the heart of public health programs. Much remains to be done to increase public awareness and to provide health care professionals with palliative care knowledge and training. I believe that documentary photography can be an important element of this teaching and training.
End of life care is a global issue. The palliative care approach is being adopted increasingly in industrialized nations where most deaths are in hospitals. Here death is "managed" rather than being treated as a natural part of the life experience. Many people are unaware that there is an alternative to the strictly biomedical, curative approach to terminal care. The palliative care approach is also being adopted in developing countries where many people die with insufficient pain management and insufficient social and financial support.
The photos in this series are from several places in France, India, and the USA. I began it by spending from Christmas Day 2005 until New Year's Day 2006 at an extraordinary place: LA MAISON. It is a 24 bed palliative care home in Gardanne, France, created by a medical doctor and a social worker who had been dismayed at the treatment being delivered at the hospital where they were colleagues. They felt that much could be improved for all the patients they saw there, but particularly for the many AIDS patients who were often being treated in rude, disrespectful ways. Their initial offering was a 12 bed home in the woods near Marseille, which was featured in a fictional film. I visited the new place with a nurse from Nice and was completely impressed by the way they built a community which had as its mission to celebrate life to the last breath. Between Christmas and New Year's I lived for the 8 days in one of the guest rooms for visiting family members, and spent the day with those patients who could leave their rooms or who invited me in to talk with them. Each evening I showed the day's best images on my computer outside the dining room. It was an extraordinary experience for me.
At that time I was living in Nice, France, and I arranged to be an "Artist in Residence" in the newly created unit at a major hospital there. It was intended to be a 12 bed unit, but only 6 beds were available at the start. I spent two days a week there, often having nobody to photograph, but always learning a great deal from the staff and from the extraordinary group of people who came daily from two French associations of people who provide end of life "accompaniment" —- something I had never heard of but found extraordinarily rich.
Sometime later, after giving a lecture at the University of Lancaster's program on end of life care, I learned about the Kerala, India program NNPC: Neighborhood Network for Palliative Care. It began with a doctor, a nurse and a social worker, who created a small inpatient unit at the hospital in Kerala, India. A few volunteers joined them, and professionals and volunteers from the surrounding area wanted to offer closer to home care. Three years later, the NNPC had 4000 volunteers who had raised funds and provided care in their areas. Overall in India it was estimated that about 3% of the population had access to palliative care; in Kerala 80% had such access! I spent 3 weeks visiting the inpatient unit, the outpatient unit and local area units, as well as riding with the teams that made home visits. It was a wonderful experience for me again.
The third body of photos in this project were taken in and around Houston, Texas. Here I accompanied a home visit team from Silverado Senior Living's palliative care program. Some visits were to private homes and other visits were to care homes where someone had been placed on palliative care. In a second week I was "in residence" in the newly created 10 bed palliative care unit at MD Anderson Cancer Hospital. It was the ONLY such unit in the huge medical complex of Houston, and a very impressive one.
Collectively I hope these images will help people to think and talk more about how we die, how we would like to die, and how to make different options available to those approaching the end of their lives. Such demystification can be an important factor in decision-making about the services offered by medical and other people.
If END OF LIFE CARE is an area of particular interest to you, click here to download a slideshow from La Maison and click here to download the accompanying text from a lecture I gave about it in 2007. It remains the best palliative care home I have ever seen or heard about.
EXHIBIT HISTORY
2005 New Brunswick, NJ, USA Johnson and Johnson Art Gallery, "Long Term Care for the Dependent Elderly: Lessons from Mexico, California and Japan"
2006 Titusville, NJ, USA Janssen Cilag Art Gallery, "Long Term Care for the Dependent Elderly: Lessons from Mexico, California and Japan"
2007 Princeton, NJ USA, Bernstein Gallery, Woodrow Wilson School, Princeton University, "Long Term Care for the Dependent Elderly: Lessons from Mexico, California and Japan"
2008 Mediatheque de Nice, Gallerie Thiole, Nice, France "Little Things with Great Love: End of Life Care in Four Countries"
2009 Vienna, Austria, European Association of Palliative Care, "Alive at the End of Life"
2009 Constanz, Germany, Nycomed Pharmaceuticals Headquarters, "Alive at the End of Life"
2009 Monte Carlo, Monaco, Princess Grace Theatre, "La vie jusqu'au bout…"
2010 Houston, Texas USA, FotoFest official exhibit, Univ of Texas Medical School, "Alive at the End of Life"
2016 September 21-October 29 "Circle of Life", Europe headquarters in Zurich, Switzerland of Takeda Pharmaceuticals
For details of the exhibit materials, see the last section of this website: arranging exhibits and speaking engagements.
[TEXT TO ACCOMPANY SLIDESHOW ON LA MAISON, ]
Text follows, paralleling but not one by one, these slides.
La Maison is a palliative care center in Gardanne, France, near Aix-en-Provence. The 24 residents, each in a private room on two floors, receive the medications they need, but the larger goals are to make them comfortable, reduce their physical pain, and heal their spirit, not to offer a cure that is no longer feasible.
Most residents come to La Maison at a time that their cancer, HIV disease, neurological disease, cirrhosis, or other ailment is quite advanced and when death is likely to be close at hand. A few residents with chronic conditions, such as Lou Gehrig's disease (ASL) are there for long stays, as the physical care they require is beyond what their relatives can provide in the home environment. Some people come for a short stay to give respite to exhausted family caregivers, and others come to a day center program a few days a week.
La Maison was founded in the mid-1990's by a doctor and a social worker who were dismayed at the conditions under which many people, but particularly those with AIDS, were dying in hospitals, with insufficient concern for their dignity. La Maison was created to model how an institution could provide the right to die surrounded by beauty, by warmth, by humanity... Utopian? Yes. Possible? Yes.
One is first struck by the physical beauty, the atmosphere of good cheer and life, created by colorful settings and gaiety in each space … no pale green walls and dull institutional artwork here! A fire in the fireplace makes that part of the reception area a particularly popular spot in winter.
But the true beauty is in the loving care offered by a team of doctors, nurses, aides, psychologists, volunteers, chefs, and cleaning staff. They meet in two groups, one per floor each day, to discuss each patient's condition and needs. I've never seen such a lack of hierarchical posturing, such a respect for the views of each person who contributes to the team's understanding, or such solidarity … And over a 10 day period I NEVER heard a harsh word from any of the personnel or volunteers, while I saw hundreds of instances of sweetness, generosity, and good spirit.
Holidays can be joyful, but they are often particularly difficult times for those who are alone or ill. At La Maison a lot was done to make these days as positive as possible. Particularly for those who were well enough to leave their rooms, the atmosphere of loving care went beyond the usual. On the night of December 19th, when residents went to sleep, two staff members and a volunteer decorated all the public spaces with hand-made objects .
During my 10 day visit a local group came to sing, a young cellist with a fine reputation played late one afternon, and an internationally acclaimed string quartet spent several hours of the day between their two evening performances in Marseille at La Maison, where they gave a long concert. Realizing that many residents had been too ill to come down to hear them, the soloist then walked through the corridors of the two units playing his violin. He even entered the room of a newly arrived patient who loves classical music and offered him a brief, private concert!
The holiday activities meant gifts and a reason to dress more elegantly for some residents. Some visiting family members stayed throughout the holiday period. Others arrived for the special meals and other events, and yet others came and went periodically, spending quiet time in their loved one's room.
Of course the main element of importance during the holidays was something that is present all year long: the trusting, loving relationships staff members and volunteers establish with EVERY resident, helping them in times of crisis, but reminding them throughout the day of their value as human beings. Most of the care is given behind closed doors, as the team of caregivers and volunteers spend hours each day seeing to the physical and emotional needs of those in their charge. A few short series of my photographs show the powerful effects of the kind of special attention that is frequent:
… the warm attention given to Edwin in the arts program…
… an hour of massage, mask and makeup by Virginia for Christine, a regular participant in the day program, who is almost completely paralyzed by ALS…
…. a bath given by Fabienne to Henri, a man in his 70's, fatigued and tense from battling his advanced stage liver cancer…
… and finally, Guy, a coiffeur who volunteers one day a week at La Maison providing a haircut and warmth for Sabine, who was upset by the loss of hair following her last chemo session.
The place of cooking at La Maison was thought about even before the opening and has been considered to be very important ever since. Patricia, one of the chefs, explained that mealtime is considered a special time of the day as meals are not only about food, but are a source of humanity and conviviality. Those residents who are able to come to the dining room find themselves in a cheerful room, with various sized tables with tablecloths, flowers, real dishes and silverware, not paper and plastic or styrofoam. The food is beautiful as well as tasty, as great attention is given to presentation, odors, colors, taste, and quantity. Enough soft foods are provided for those with digestive problems, and even those who cannot eat some or all of the special food items love the "eye candy" of these beautiful delights provided for them…
A music and dance performance is given in the largest concert hall in Marseille every other year by staff members and volunteers. A bottle of wine or champagne is the price of entry. Last year they garnered more than 4000 bottles for the cave, so residents who want wine with their meals are able to have it, whether in their rooms or in the dining room.
As you can imagine, the holiday season meant even more wonderful cooking, baking, meals, menus, and calories! It was extraordinary…
Where will my new project go? I don't know at this time. I hope to accept invitations I have to photograph some of the "best" palliative care services, home hospice care, institutional care in the US, the UK, Sweden, France, Germany, and Japan. I also hope to photograph at a large scale community based palliative care program in Kerala, India. But the time investment needed to photograph on such a sensitive topic is great, and until I find some funding support, I am moving slowly.
Peter Howe, formerly director of photography at the New York Times Magazine and at Life, and then a vice-president at the agency Corbis, stated:
Documentary photography will survive. While the craft might now be at a crossroads, there are simply too many practitioners — young and old, good and bad — struggling against great odds for there not to be powerful photographic images in the future, images that will disturb, enlighten, inform and invigorate us. Where we will find them, and who will pay for them, has yet to be determined.
I hope to be one of those who will provide them. Having had the honor and delight of presenting my ideas and some of my images to you today has already encouraged me to continue these efforts. Thank you again!